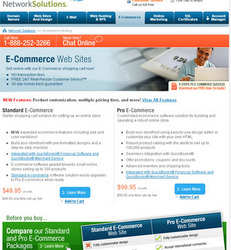 The release of E-Commerce v 7.1 provides many of the tools that growing businesses need to streamline their online sales operations
Herndon, VA (PRWEB) December 3, 2007
Network Solutions® announced today the launch of E-Commerce v7.1, the latest version of their E-Commerce Web site package. Nearly 10,000 online stores are powered by Network Solutions e-commerce products, and the release of v7.1 builds upon previous versions of the software to deliver a robust e-commerce solution providing the tools that growing businesses need to do business online.
E-Commerce v 7.1 offers users the ability to create an E-Commerce Web site with unmatched flexibility, customization and functionality. New features include seamless integration with QuickBooks® Point of Sale; the ability to set tiered product price levels; the ability to set up drop shipping from pre-determined suppliers; the addition of personalization questions and checkout questions; bulk data import/export enhancements; and more.
Network Solutions® E-Commerce Web site creator packages have always offered a completely customizable storefront design. Professional design themes can be modified with a simple, WYSIWIG design editor and click-and-drag layout tool, or pages can be customized with standard HTML editing tools such as DreamWeaver™ or FrontPage™. Network Solutions E-Commerce solution also includes a built in sitemap that makes it easy for search engines to crawl the store, while all content pages include customizable title tags and meta tags so clients can enter appropriate keyword phrases for search engine spiders to index. Completely customizable product and category page URL's are created from names rather than mysterious characters and ID codes that most shopping carts use, making it easier for search engines to crawl your site.
Network Solutions E-Commerce Web site products have never charged users transaction fees. In addition, Network Solutions is the first--and one of very few--e-commerce solution providers to comply with the Visa® USA Cardholder Information Security Program (CISP) to meet the Payment Card Industry (PCI) Data Security Standard.
"The release of E-Commerce v 7.1 provides many of the tools that growing businesses need to streamline their online sales operations," explains Jeff Zimmerman, Vice President of Product Marketing and Management with Network Solutions. "The new features that we have launched in v7.1 are all designed to help make the process of operating an online business as easy as possible for our customers."
As always, Network Solutions backs up their E-Commerce Web site packages with free, 24x7, award winning telephone and email customer support. For more information about how to build an E-Commerce Web site with Network Solutions, please visit NetworkSolutions.com.
About Network Solutions:
Network Solutions, a leading provider of Web solutions and the pioneer of the domain name registration service, offers a full range of Web-related services that includes Web hosting, Web design, e-commerce software, search engine marketing, SSL certificates, e-mail services and domain name registration. Network Solutions draws on 28 years of experience to make it simple and affordable for customers to build and manage an online presence through a one-stop Web solutions provider.
###