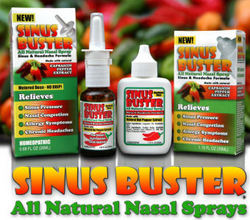 We're giving one thousand dollars to the number one video, five hundred dollars to the runner up, and two hundred fifty dollars to number three. All 20 winners will get a one year supply of their favorite Sinus Buster formula which comes to six units each - a ninety dollar value
Albany, NY (PRWEB) December 3, 2007
As the world's first hot pepper nasal spray, Sinus Buster has become a pop culture phenomenon both as a consumer novelty and an important medical breakthrough. Though many skeptics at first dismissed Sinus Buster as a gimmick, it turned out this hot pepper nasal spray was no joke. Just as advertised, Sinus Buster really could relieve major headaches and sinus problems, and today there is an army of diehard fans posting blogs and videos touting its' miraculous nature across the web. The makers of Sinus Buster have responded by sponsoring a video contest on Youtube. Winners will receive prizes based on ratings and comments posted by other Youtubers.
"The testimonials pour in everyday and our customers are dying to tell their stories. We have so many customers hailing Sinus Buster as a life changing experience, and half of them are Youtubers. So we figured a video testimonial contest would be an awesome way to give the fans what they want," says Wayne Perry, president of SiCap Industries, manufacturer of Sinus Buster.
The Sinus Buster Youtube contest will be judged by Youtubers and Sicap officials based on a variety of categories including: ratings, comments, production value and creativity. The top 20 winners will receive a one year supply of Sinus Buster, and the top three winners will also receive cash prizes.
"We're giving one thousand dollars to the number one video, five hundred dollars to the runner up, and two hundred fifty dollars to number three. All 20 winners will get a one year supply of their favorite Sinus Buster formula which comes to six units each - a ninety dollar value," adds Perry.
When Sicap Industries launched the Sinus Buster brand in 2003, sales took off fast thanks to the support of satisfied customers around the world. Within months the world's first hot pepper nasal spray attracted major media attention on the Howard Stern Show and in the Wall Street Journal. Today, Sinus Buster hot pepper nasal sprays are sold in thousands of retailers throughout the world and sales are booming. To find out more about the Sinus Buster Youtube contest, visit sinusbuster.com for complete details.
###