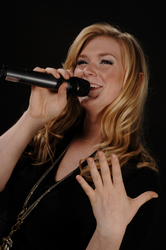 New York, NY USA (PRWEB) December 5, 2007
Pop Rock Artist and Songwriter Whitney Wolanin (pronunciation WO-Lan-in) has a busy December and January. Whitney will perform on Network TV appearances, on several around the world broadcasts on the EWTN network on Life on the Rock to 142 countries on December 13, 2007 and January 3, 2008.
Whitney will also do a LIVE interview on the nationally syndicated Doug Stephan's Good Day Show heard in 425 US markets during the holiday season. Doug Stephan's Good Day
Whitney Wolanin will again perform her Christmasology™ Show (the big songs of Christmas) in a Rocking, Spirited Holiday format with her All Star Band December 15 in Fort Myers, Florida. The 6th Annual Rockin' Christmas Show, which raises money for needy children and a permanent scholarship fund, will be held on the hangar grounds at PrivateSky® Aviation Services to a sold out crowd.
Information at the Rockin' Christmas Fund
Whitney has again charted 2 of her songs, 'Silver Bells' and 'Frosty the Snowman' the week of November 29, 2007 on the R&R/Billboard/Media Base Radio Chart. Both songs plus her spiritual song 'Hark the Herald Angels Sing' will be heard in US movie theaters in December. Silver Bells was a most added song on the Radio and Records AC Report December 3, 2007. The Loud and Clear Remix sung by Whitney Wolanin reached a peak number 20 spot on record pool charts in the US and Canada in the summer of 2007. Loud and Clear was written by Whitney and Victoria Wolanin. Whitney is continuously writing material by herself, and with her sister Victoria, plus recording new Pop Rock songs for release in 2008.
Whitney Wolanin music is available from TopNotch® Records on Apple iTUNES plus at over 300 internet download sites around the world.
Information at Whitney Wolanin Official Website and Whitney Wolanin Official My Space Website
###