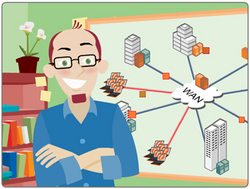 We chose Riverbed Technology's high-performance Steelhead platform for our Managed WAN Acceleration Service because it enhances application visibility and improves application response time and WAN efficiency
Newbury Park, CA (PRWEB) December 3, 2007
Tredent Data Systems, Inc., the leader in wide area networking solutions, today announced that they have selected Riverbed's Steelhead platform, a highly scalable WAN acceleration solution, for a new Managed WAN Acceleration Service or Solution as a Service (SaaS). Riverbed's high-performance Steelhead platform enables Tredent's professional services staff to fine-tune network performance to improve application delivery and reduce bottlenecks. Tredent's new Managed WAN Acceleration Service, which relies on Riverbed's Steelhead platform, can help distributed enterprises to accelerate application delivery over the WAN, leverage WAN investments and boost user productivity.
"We chose Riverbed Technology's high-performance Steelhead platform for our Managed WAN Acceleration Service because it enhances application visibility and improves application response time and WAN efficiency," said Charles Beck, vice president of sales at Tredent Data Systems, Inc. "Riverbed is helping us to deliver on our commitment to offer a world-class experience to our business customers. Their platform offers significant scalability which is enabling us to meet the needs of our multinational customers."
The Steelhead platform improves application performance over the WAN by recognizing and eliminating redundant transmissions; accelerating TCP and application-specific protocols; prioritizing and allocating access to bandwidth; and ensuring high application availability at locations with various WAN connections. The Steelhead application acceleration platforms work end-to-end with a multitude of applications, including Web-based (HTTP, HTTPS, FTP, SSL, etc), client-server (CIFS, MAPI, SQL, Oracle, Email), custom software, voice and video. The platforms also include a broad set of management tools for monitoring and reporting on WAN optimization and application acceleration performance.
The new Managed WAN Acceleration Service (SaaS) offering will allow Tredent's customers take advantage of the business enhancements that WAN optimization and application acceleration bring to corporate networks without having the huge capital outlay that normally comes with deploying an enterprise wide area network acceleration solution. This approach is allowing more businesses to take advantage of WAN optimization technology in their environment while only needing to make low monthly payments during the term of the service. "Most customers are choosing to make the term of the new Managed WAN Acceleration Service (SaaS) offering match that of their current WAN circuit contract so that they can make a decision on new technology or upgrades to existing technology when they are considering the renewal of their circuit contract," said Justin Lofton, senior systems engineer at Tredent Data Systems, Inc.
About Tredent Data Systems, Inc.
Tredent Data Systems, Inc. is a leading provider of systems integration solutions and services to medium and large business customers worldwide. Combining unsurpassed customer service with advanced technology and professional service capabilities, Tredent Data Systems, Inc. delivers innovative and unique business solutions to customers around the world. For more information, visit http://www.tredent.com.
About Riverbed's Steelhead Appliances
Riverbed's WDS solutions enable organizations with more than one office to overcome a host of severe problems, including poor application performance and insufficient bandwidth at remote sites. By speeding the performance of applications between distributed sites by five to 50 times and in some cases up to 100 times between enterprise data centers and remote offices, Riverbed's award-winning Steelhead WDS appliances enable companies to consolidate IT, improve backup and replication processes to ensure data integrity, and improve staff productivity and collaboration. Steelhead appliances have been deployed in organizations ranging from the world's largest corporations with offices around the globe to small companies with a couple of sites that are just miles apart.
About Riverbed
Riverbed Technology is the performance leader in wide-area data services (WDS) solutions for companies worldwide. By enabling application performance over the wide area network (WAN) that is orders of magnitude faster than what users experience today, Riverbed is changing the way people work, and enabling a distributed workforce that can collaborate as if they were local. Additional information about Riverbed (Nasdaq:RVBD) is available at http://www.riverbed.com.
Riverbed Technology, Riverbed, Steelhead, RiOS, Interceptor, and the Riverbed logo are trademarks or registered trademarks of Riverbed Technology, Inc. All other trademarks used or mentioned herein belong to their respective owners.
# # #