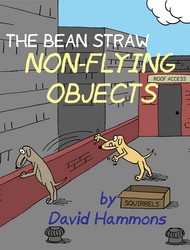 ... quirky ruminations from the deep recesses of the author's mind.
Oak Harbor, WA (PRWEB) December 2, 2007
In March 2005, a prominent medical school's press release headline read, "University of Maryland School of Medicine Study Shows Laughter Helps Blood Vessels Function Better." According to the study, laughter makes blood vessels expand, increasing blood flow. This is beneficial to the vascular system. Conversely, stress constricts blood vessels, decreasing blood flow, which can have adverse health effects. The article asserts laughter may be an element in the prevention of cardiovascular disease. Dr. Michael Miller, lead researcher, states, "At the very least, laughter offsets the impact of mental stress, which is harmful to the endothelium." The endothelium is the inner lining of the blood vessels.
"You could consider me a doctor of 'pharmacomicology'," says Washington state resident David Hammons. Mr. Hammons authors a cartoon strip called "The Bean Straw." He dispenses humor described as "... quirky ruminations from the deep recesses of the author's mind." He recently published a compilation of his cartoons in a book entitled, "Non Flying Objects." Given the positive effects of laughter, Mr. Hammons plans to leave copies of the book in select medical center reception areas. "I find medical related reading material to be informative but boring, and at times, downright depressing. Why not provide more lighthearted reading for people who likely feel down already. This will build public awareness of my book, while putting a smile on someone's face."
Mr. Hammons started writing "The Bean Straw" in response to comments from family and co-workers about his unusual sense of humor. Initially, he didn't know how to channel his talent. Since he was a fan of Gary Larson's "The Far Side," he decided to try cartooning. He describes his strip as light on the art and heavy on the humor. "If you are expecting sophisticated cartoon art, you won't find it in this book, but it will put a chuckle in your heart and dilate your blood vessels."
Mr. Hammons self-publishes "The Bean Straw" using Lulu online publishing services. Lulu is the world's fastest-growing print-on-demand marketplace for digital do-it-yourselfers. The book may be purchased at Lulu, Amazon, Barnes & Noble, and Borders.
Link to Publication: http://www.lulu.com/content/555663
ABOUT THE AUTHOR
David Hammons works as a Federal Civil Servant in Washington state. He works as an engineer for the Navy EA6B flight simulation systems. He has a bachelor's degree in Computer Science Engineering and a Master of Business Administration. He, his wife, Melanie, and daughter, Rachel, reside on Whidbey Island in the Puget Sound.
Contact Name: David Hammons
Contact Telephone: 360-675-9372
Web Site: http://www.thebeanstraw.com
###