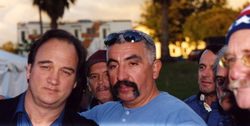 home is where the heart is
Los Angeles, Calif. (PRWEB) December 1, 2007
Volunteer organizations and members of the community, in cooperation with the Veteran's Affairs facility in West Los Angeles, will once again create a holiday party for more than 2,000 veterans, active military and their families on Sunday, December 2, 2007 from 1:30 p.m. to 7:30 p.m. next to the Wadsworth Theater on the grounds of the VA Campus located at 11301 Wilshire Blvd. in Brentwood.
This year, the theme is "home is where the heart is" and will include a huge outdoor tent that inside, is decorated with living room-like settings that offer the warmth and coziness of a home setting. In addition to the home for the holidays ambiance, guests will be treated to a buffet holiday dinner, receive gift bags and enjoy performances by TV star Jim Belushi, star of ABC's According to Jim and his Sacred Hearts band.
Other entertainment includes: 1940's style The Sentimental Sisters with pianist Jay. C. Munns; Curtis Smooth and the Blues2Blues Band; Kiley Dean and Luis Oliart; Erin Torpey and Fleetwood Mac tribute band, Belladonna; strolling magicians, including Magic Castle regular, Andrew Goldenhersh; Santa's helpers, and an appearances by actor and director Jason Alexander and Los Angeles Mayor Antonio Villaraigosa, as well as other city officials.
Smooth, who has performed at the event since 2001, said, "The event lives with me for the entire year. Money can't buy for the feeling we get performing for these veterans and military personnel. When they see this event, put on just for them, I know it gives them a great feeling too."
Jim Walsh, the event's welcome manager, said this is the first year event organizers are making a special effort to include active military personnel.
"We want to encourage a connection between the community and those in active duty," Walsh said. "We want to let them know how much we appreciate their sacrifice. This is a great way to show both active military and veterans the community is here to support them."
The event is produced solely through the efforts of more than 500 volunteers and the cash and product donations received from individuals and local businesses. The buffet dinner will include appetizer through dessert and will be served to guests with care, warmth and appreciation. Any leftovers with be taken to local homeless and battered women shelters.
Barry Gershenson, in charge of fund raising for the event, said donations, large and small, are tax-deductable. "We have one common purpose," Gershenson said, "a strong desire to give back and honor the men and women who put their lives on the line in order for all of us to live in this wonderful country."
The event is free to all veterans, active service personnel and their families. The event is organized by the Family of Women and Men's Division International, Southwest Region; the Westside Shepherd of the Hills Church; and the VA Volunteer Servicet. To volunteer, to attend or to make a tax-deductible donation, call 866-787-3755.
The 15th Annual Veteran's Holiday Celebration is the nation's largest volunteer event of its kind produced entirely by volunteers and charitable contributions. It takes place Sunday, December 2nd between 1:30 p.m. and 7:30 p.m. next to the Wadsworth Theater at 11301 Wilshire Boulevard, Los Angeles, CA 90025.
# # #