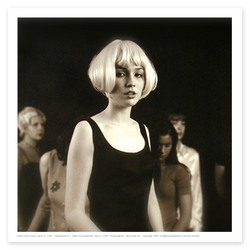 Memories are very important to people. The one thing they would grab if their house were on fire is their photographs. Ironically, most conventional photographs are already being exposed to the slow fire of oxidation and simply won't stand the test of time
Minneapolis, MN (PRWEB) December 3, 2007
Myrold Studios owner Jason Myrold launched his company this year with the aim of creating personal photographic collections for clients with an interest in preserving their history. By harnessing the stability of the precious metal platinum and the durability of quality paper, photographs that last thousands of years are possible.
The hallmark of the platinum-based photograph, or "platinotype", is its extreme permanence. What sets it apart from traditional silver-based or color photographs, is its immunity to oxidation and fading from light, the two primary elements that plague photographic images. Think of tarnished silverware or a faded color photo, respectively, as real world examples.
"Memories are very important to people. The one thing they would grab if their house were on fire is their photographs. Ironically, most conventional photographs are already being exposed to the slow fire of oxidation and simply won't stand the test of time," said Myrold.
Another essential feature to each photograph produced by Myrold Studios is the inclusion of information pertaining to the image. This is accomplished by printing very fine platinum-based text near the edge of the image. Myrold attributes this concept to his own experience with old family photographs lacking information.
"If the platinotype were known of during the era of Columbus or even King Tut, there is no doubt that photographs of these historical figures would exist today. It is exciting to think that many centuries from now, generations of the future will have a glimpse into their past because of the permanence of these images. So it is very important that the photograph and its information are joined at the beginning and arrive at points in history together," said Myrold.
In addition to platinum's "inability" to form oxides, Myrold sited paper's time tested qualities as well; the fact that ancient Egyptian manuscripts such as the Book of the Dead were written on papyrus, an early form of paper, and are still in existence.
"Paper is the realm of permanent documents and doesn't require technology to see what's printed on it. The archival integrity of computerized archives such as CDs and hard drives have already come into question, and their stored information will need to be transferred to keep up with changing devices," said Myrold.
The platinotype is a black and white photograph. It is made by exposing a negative against paper coated with a sensitized solution to ultraviolet light. The result is very fine particles of pure platinum being deposited into the fibers of an acid-free paper. William Willis first perfected the process in 1873, about 47 years after the invention of photography. All modern day platinotypes are prepared by hand due to the lack of commercially coated papers.
Services provided are categorized in two ways: creating new images or reprinting existing ones. Myrold Studios utilizes a network of photographers to provide portrait services that are provided on location. Existing images, regardless of format or condition, can be "remastered" and reprinted as a platinum-based photograph. Special rates are available for non-profit organizations such as historical societies or museums looking to reprint historically significant images.
"Whether creating new imagery or restoring a collection of deteriorating photo albums, we work with clients to create a well organized photographic archive that will literally last thousands of years," said Myrold.
Jason Myrold began his extensive study of photography in 1989 at North Dakota State University, and later received his degree in photography from the Minneapolis College of Art and Design, or MCAD, in 1998. It was there he first encountered the method of making photographs with platinum.
For more information on Myrold Studios and platinum-based photographs, visit: http://www.myroldstudios.com
About Myrold Studios
Myrold Studios is a company that specializes in making extremely permanent platinum-based photographs. Services include on location portraiture and the restoration and reprinting of existing images as platinum-based photographs.
Contact:
Jason Myrold, owner
Myrold Studios
612-343-0800
Email: history@myroldstudios.com
###