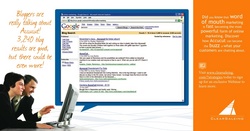 Podcasts are a great online public relations tool because they are inexpensive to create, easy to access and likely to spread virally
Columbus, OH (PRWEB) December 3, 2007 -
Online public relations and social networking professional, Bill Balderaz hosted the latest in a series of search engine optimization and marketing webinars from online marketing leader ClearSaleing on November 28th.
Due to the overwhelming feedback from the first webinar, an encore presentation is scheduled for December 5, 2007 at 1:30PM. Pre-registration is available at ClearSaleing.com.
ClearSaleing is a leader in Internet marketing, working with Internet retailers and direct marketers to improve the performance of their online marketing campaigns through pay per click, search engine optimization, affiliate marketing, word of mouth marketing and RSS feeds.
Balderaz serves as Director of Viral Marketing for ClearSaleing and is a recognized expert in generating online buzz. He is also founder and President of Webbed Marketing, a full service Internet marketing company. At the webinar, he highlighted seven online public relations and social networking tools to increase online buzz.
According to Balderaz, search engine optimized press releases are one of the most effective ways to reach a large number of influencers and create the perception that your brand is everywhere because the press release is seen in blogs, e-mails, and RSS feeds.
Balderaz suggested the following tips on creating a social media friendly press release:

Optimize on the keywords your influencers and end users are searching on.
Get the release index the release in Google News and Yahoo! News.
Include Technorati tags.
Include "forward to a friend" and "print" functions.
Include links to: digg, del.icio.us, StumbleUpon, Furl, Reddit, etc
Record a podcast with the release and distribute the podcast via media wires.
Create an XML feed that your readers can subscribe to.
Include product pictures when relevant.
Balderaz also suggested podcasts as a tool help a message spread virally. He said that more than 6% of US adults, or about 9 million web users, download podcasts. Approximately 38% of these active podcast downloaders say they are listening to the radio less often. "Podcasts are a great online public relations tool because they are inexpensive to create, easy to access and likely to spread virally," he said.
In addition, Balderaz offered advice on how to reach blogger and online influencers. "Online influencers are the key to any word of mouth marketing program. When bloggers and other prominent online personalities are spreading the word about your products and services, good things happen," he said.
Balderaz later discussed the importance of monitoring and participating in list serves and discussion groups. "We encourage clients to become active in these online discussions to listen and learn about their customer base," explains Balderaz.
The webinar also featured information on using MySpace, Facebook and other social networks to listen, learn and influence. "Social networks have great potential in most online marketing campaigns because friends in social networks have the power to link and drive traffic. We listen to our friends and trust their endorsements, both online and offline" said Balderaz. These networks are also a great way to listen to the active bloggers and online influencers in your customer base, he added.
In conclusion, Balderaz encouraged all internet marketers to create fresh content, identify a hook, use multiple online distribution channels, and continue to participate in and generate content. "Viral marketing is not a dot but a line!"
About Bill Balderaz
Bill Balderaz serves as Director of Viral Marketing for ClearSaleing. He is also founder and President of Webbed Marketing. Webbed Marketing consists of a team of experts with Internet marketing experience predating the launch of Google. The firm's objective is to help businesses grow by using the Internet to reach buyers and online influencers. Webbed Marketing offers its clients full Internet marketing services including online community building, viral marketing programs, pay-per-click search management, search engine optimization and affiliate program management. To learn more about Webbed Marketing visit WebbedMarketing.com.
About ClearSaleing
ClearSaleing is a new breed of online agency that helps Internet retailers and direct marketers improve the performance of their search engine marketing campaigns and conclusively prove their results through a technology that measures and optimizes profit - the only metric that matters. Launched in 2006 and located in Columbus, Ohio, ClearSaleing is rapidly becoming the choice of online advertisers who need transparency, flexibility and accountability in the management of their campaigns.
###