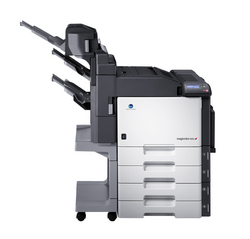 We're excited to offer these new printers at competitive price points, and with far more features than the competition has to offer.
Ramsey, N.J. (Vocus) December 3, 2007
Konica Minolta Business Solutions U.S.A., Inc. (Konica Minolta), a leading provider of advanced imaging and networking technologies from the desktop to the print shop, today unveiled several new network-ready color and monochrome printers that further round out Konica Minolta's comprehensive line of printers and AIOs (All-In-Ones). The newly introduced products include four new color laser printers (magicolor 8650DN, magicolor 4650DN, magicolor 4650EN and magicolor 2590MF); and two new monochrome laser printers (pagepro 5650EN and pagepro 4650EN).
The development of each of these new printers adheres to Konica Minolta's central goals to provide organizations with digital imaging solutions that address business needs such as: speed, value (price performance, reliability and support), environment (energy consumption) and accessibility.
With the pagepro™ product line, Konica Minolta's monochrome network printers target large workgroups and high-demanding printing environments. The magicolor® printers are aimed at color environments with the magicolor 4650 Series targeting small to mid-size workgroups and the magicolor 8650DN targeting larger business workgroups, creative services and in-house publishing. All of the new printers are versatile, cost-effective and provide several attractive features compared to similar models offered by competitors.
"Our newest magicolor and pagepro products provide customers with all the workflow tools they need to implement digital imaging throughout their departments or organizations, as well as an aggressive total cost of ownership program," said Kevin P. Kern, vice president, product planning and marketing, Konica Minolta Business Solutions U.S.A., Inc. "We're excited to offer these new printers at competitive price points, and with far more features than the competition has to offer."
magicolor 8650DN
The magicolor 8650DN boasts an ultra-fast 11 x 17/A3 tandem engine with quick warm-up and first page out time, and is driven by the Konica Minolta's exclusive Emperon™ Print System to produce 35 pages per minute (PPM) for color and black and white prints on a variety of media sizes and weights (including banner paper). Its revolutionary quality, which far surpasses industry standards on many fronts, is capable of producing 19,200 x 600 dpi-class resolution - a 5-bit/pixel PhotoART contone technology. Its best-in-class performance includes a Gigabit Ethernet, 100 percent duplex productivity, monthly duty cycle of 150,000 pages and convenient printer management functions such as: an intuitive front keypad; an easy-to-follow menu system; an informative, back-lit LCD; and on-screen toner gauges. Additionally, the InfoLine on the LCD shows at-a-glance printer status up close or from a distance, and comes with optional document protection features, such as an encryption kit and a biometric authentication unit, which reads the vein patterns of an end-user's finger. The magicolor 8650DN will be available in January 2008.
magicolor 4650 Series
A modern powerhouse, the magicolor 4650 Series boasts a high-speed tandem engine that produces 25 PPM color and black and white prints, as well as a powerful processor driven by the Emperon Print System. The user-friendly, low-noise machine features Simitri™ HD color polymerized toner; direct printing capability from USB flash drives; a new contemporary design with a lower height for increased accessibility; and an intuitive control panel; plus Konica Minolta's highly acclaimed InfoLine style status display. Its monthly duty cycle is 90,000 pages. The MSRP for the magicolor 4650DN - which includes a standard duplexing unit with 100 percent duplexity - is $799 and the magicolor 4650EN is $699; both are available immediately.
magicolor 2590MF
The magicolor 2590MF enables several essential business functions - print, copy, scan and fax - in a single compact desktop unit, at 20 PPM black and white, and 5 PPM color. As an upgrade from the 2490MF, the 2590MF features support for Microsoft Vista , Microsoft XP and Mac OS. It is capable of scanning and printing up to 8.5 x 14 inches; has a 33.6K bps Super G3 fax and prints at 2400 x 600 dpi. Additionally, the magicolor 2590MF offers standard SNMP MIB Reporting, Pagescope device management and SMTP Authentication. The MSRP for the magicolor 2590MF is $699; it is available immediately.
pagepro 5650EN/pagepro 4650EN
These network printers support XPS (XML Paper Specification) file format from Microsoft Vista with a built-in XPS interpreter and high-quality, proven laser technology that provides dependable service and durable prints to organizations. With print engine yields as high as 150,000 - 200,000 pages per month, Konica Minolta's Emperon Print System powers the printers with an advanced 500 MHz processor and Gigabit ethernet enabling smooth and easy integration into a wide variety of IT environments. The pagepro 4650EN boasts an output of 35 PPM and the pagepro 5650EN features 45 PPM. Capable of holding up to 500 sheets of paper in the base version and 1,800 sheets of paper when fully equipped, both printers also have 128 MB standard memory expandable to 384 MB and an optional 40 GB hard drive for enhanced functions including password protected secure printing. Both printer products offer Direct Printing from USB flash drives. The MSRP for the pagepro 5650EN is $899 and the pagepro 4650EN is $699; both are available immediately.
Watch the Konica Minolta Gator Bowl on January 1st at 1.00p EST on CBS. For a chance to win an all-expense paid trip to the Konica Minolta Gator Bowl, register to win at http://www.KMBSsports.com .
About Konica Minolta Business Solutions U.S.A.
Konica Minolta Business Solutions U.S.A. Inc. (http://www.kmbs.konicaminolta.us), a leader in advanced imaging and networking technologies for the desktop to the print shop, brings together unparalleled advances in security, print quality and network integration via its award-winning line of bizhubTM multifunction products (MFPs); bizhub PROTM production printing systems; magicolor® desktop color laser printers and all-in-ones; and pageproTM monochrome desktop laser printers and all-in-ones. Konica Minolta also offers advanced software solutions, wide-format printers, microform digital imaging systems, and scanning systems for specialized applications.
Headquartered in Ramsey, NJ, Konica Minolta delivers expert professional services and client support through an extensive network of direct sales offices, authorized dealers, resellers and distribution partners in the United States, Canada, Mexico, Central America and South America.
Konica Minolta Media Contact:
Frank Tutalo
Lois Paul and Partners
+1 781.782.5761
Frank_tutalo(at)lpp.com
Konica Minolta Corporate Contact:
James Norberto
Konica Minolta Business Solutions U.S.A., Inc.
+1 201.825.4000
jnorberto(at)kmbs.konicaminolta.us
Konica Minolta is a trademark of Konica Minolta Holdings, Inc. bizhub, pagepro, Simitri, and Emperon are trademarks of Konica Minolta Business Technologies, Inc. magicolor is a trademark or registered trademark of Konica Minolta Business Solutions U.S.A., Inc. All other trademarks mentioned in this document are the property of their respective owners.
###