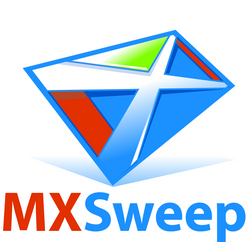 Business is relying more and more on email for important business processes such as customer ordering. With our latest offering MXSweep provides a very cost effective way to reduce the business risk associated with lost emails
Dublin, Ireland (PRWEB) December 4, 2007
MXSweep today launches Recovery and Continuity, a new addition to its hosted email security and management solution, offering business the opportunity to easily recover lost email, whilst providing email users with 24/7/365 access to their email from anywhere in the world, even during periods of business server downtime.
Email is now vital for facilitating fast and effective business communications and it has evolved over the years into a very powerful and low cost communication tool. Business uses vary but one thing is very clear, the impact of losing emails can be business critical. Consider the loss of a day's worth of emails especially if they contain customer orders or if they provide evidence in the case of a dispute. With the MXSweep Instant Replay feature, MXSweep provides a cost effective way to recover these emails quickly. Emails inadvertently deleted by the user can now be recovered easily and quickly by the same user through our secure Email Web Portal. In addition, it is possible to re-deliver the previous 7 days emails from our encrypted archive, providing business comfort where the business email server has failed several hours after the last backup.
Speaking today at a reseller conference in Dublin, Dave Lovatt Channel Sales Manager said "Business is relying more and more on email for important business processes such as customer ordering. With our latest offering MXSweep provides a very cost effective way to reduce the business risk associated with lost emails"
In addition users or administrators now have 24/7/365 access by logging onto the secure MXSweep web portal and access all recent emails from a simple web email client. This web email client allows users to send (with attachments), receive and retrieve emails and is available during business server downtime. Speaking of the importance of this level of access Danny Jenkins, MXSweep's Chief Technology Officer and founder, says "Traditionally during periods of server downtime, access to and restoration of the email service was low on the agenda, but as email becomes more essential to business and as demands upon it increase the restoration priority within the Disaster Recovery Plan becomes critical. In many businesses, this requirement is now equally or sometimes more immediate than ERP or CRM systems restoration. With MXSweep's Recovery and Continuity access to email is always on and recovery of email is instantaneous"
About MXSweep
MXSweep provides a comprehensive suite of hosted email security services, including Anti-Virus, Anti-Spam and Anti-Fraud capabilities for server and network protection with Recovery and Continuity, and Policy and Compliance solutions in place to ensure content control and business continuity. Taking less than one hour to deploy, MXSweep's managed service protects companies and employees against the threat of spam and viruses transmitted over email. The MXSweep solution helps companies increase the availability and reliability of their email and IT infrastructure. Headquartered in Dublin, Ireland, MXSweep serves the international market through a global network of channel partners.
The company has been awarded Premium Checkmark Certification status by the independent West Coast Labs on the strength of MXSweep's ability to block all email-borne spam. Applying multiple layers of perimeter protection technologies across a clustered network of secure data centres, the MXSweep email protection service provides the comprehensive and accurate filtration required to purify today's business email from all threats. The service is popular with organisations of all sizes, ranging from SME/SMB sector businesses right up to large multi-national corporates and government departments. The MXSweep solution is a fully managed service with 24/7 monitoring to guarantee system availability. Market demand for MXSweep's email protection continues to increase, with international sales increasing at double digit rates.
###