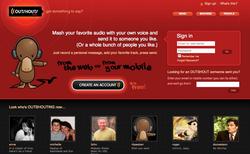 Palo Alto, CA (PRWEB) December 4, 2007
OUTSHOUTS today announced the beta launch of OUTSHOUTS, a simple, fun web service that lets users intro their favorite audio tracks with their own voice and send it to anyone with an email address or mobile phone. OUTSHOUTS can be sent to one person, or a group; marked public or private; or posted as a widget on blogs or social sites like Facebook or Myspace. Recipients do not need to be registered to receive OUTSHOUTS and the service is free.
With the idea that less is more, OUTSHOUTS allows for targeted, personalized micro-casting by making it easy to mash together your own commentary (recorded via phone or computer) on top of your favorite MP3s, and send or post to anyone, anywhere. The service doesn't require you to be on the web at all -- tracks uploaded from your computer are accessible for sending directly from your mobile phone through an easy to use IVR system.
Whether you want to punctuate a thought, tell your friends about a cool new track you've just discovered, share something hilarious, or communicate with your fan base, OUTSHOUTS adds a new dimension to micro-blogging that is super simple to use and very portable. Users can log into their account from any computer, or directly from their mobile, and send voice and music mash-ups of any just about length.
Around the core functions of sending, listening and embedding OUTSHOUTS, is an easy to use set of community functions -- profiles, user photos, commenting, tags and OUTSHOUTS archiving -- that incorporates both the web and SMS/Mobile models. Every OUTSHOUT also offers a way to buy the music portion of the OUTSHOUT, if available, from Amazon. The service has been designed to work as a destination site but will also incorporate into community frameworks like Facebook.
According to OUTSHOUTS founder Michelle Soleau, "From a kid's perspective, it's a cool mechanism to send messages to friends with the added emotive weight of music, making that message highly personal and unique to both the sender and the recipient. But it's also about 'kids marketing music' - kids spreading the word using music they love, through a medium that is simple, lightweight and portable, and makes use of the technologies that are most familiar -- the web, SMS and a mobile phone.
About OUTSHOUTS:
OUTSHOUTS is a three person team with an interest in music, the Internet and new media. The company is based in Palo Alto, CA.
###