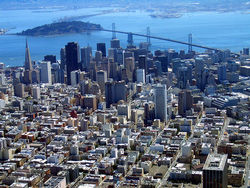 San Francisco, CA (PRWEB) December 4, 2007
BidClerk, the Construction Industry Search Engine, reported today that the following commercial construction projects are planning to go out for bid or start construction in the next 90 days in the San Francisco, CA area. Businesses interested in providing services relative to these projects should visit BidClerk.com and reference the Project ID listed below to obtain direct contact information for each job:
San Mateo, CA - La Hacienda Market Expansion & Facade Renovation, Amphlet Boulevard, 2,500-square-foot retail expansion and renovation, January 2008, $150,000. Project ID: 702180
San Jose, CA - Williams Selyem Litton Winery, 7227 Westside Road, 35,000-case capacity winery, February 2008, $5 million. Project ID: 701695
Napa, CA - Silverado Villas, 3500 Villa Ln., 20-unit condominium development, January 2008, $3 million. Project ID: 541410
Hayward, CA - Hayward Retail Shell, 10,000-square-foot retail shell building, January 2008, $1 million. Project ID: 658964
El Cerrito, CA - JoAnns, 300 El Cerrito Plaza, 8,000-square-foot retail store, January 2008, $300,000. Project ID: 702131
BidClerk.com is the only Search Engine dedicated to providing businesses with in depth information on thousands of construction projects coming up for bids all throughout the United States. Our daily updates of commercial and residential construction project leads are available to contractors and businesses in related industries that are seeking bid opportunities. For more information on bidding construction projects in your area, visit BidClerk online or call 877-737-6482.
###