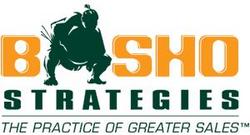 Great networking skills are essential for sales professionals and effective online networking is an integral part of this activity
Burlington, Mass. (PRWEB) December 4, 2007
Basho Strategies, Inc., an internationally renowned corporate sales training firm, announces its upcoming breakfast event, "Use LinkedIn for Earth-Shaking Sales Success," that will take place at the Westin Waltham on December 13. This premier networking event will showcase the ways in which successful sales professionals are using LinkedIn to drive business into the pipeline and generate greater revenue.
At this upcoming event, Basho Strategies will focus on techniques that successful salespeople use to take advantage of online networking tools like LinkedIn. Basho Strategies' founder and CEO, Jeff Hoffman will focus on:
•What makes a good network?
•How do you successfully build your network?
•What should you look for when searching on LinkedIn?
•What should you ask for and how do you ask for it?
•What should you offer?
•Top mistakes that people make when using LinkedIn.
"Great networking skills are essential for sales professionals and effective online networking is an integral part of this activity," said Hoffman. "We show our clients how to use specific techniques out on LinkedIn that lead to new business opportunities. Due to the incredible response from our customers, we are thrilled to bring these online networking strategies to a larger sales audience."
"Use LinkedIn for Earth-Shaking Sales Success" will take place on December 13th from 7:30 AM - 9:30 AM at the Westin Waltham in Waltham, Mass. Registration for this Basho Strategies networking event is limited and in advance only; no registrations will be accepted at the door.
For additional information and to register for the event, please visit: http://www.regonline.com/basho, call (781) 418-1789 or email events@bashostrategies.com.
About Basho Strategies, Inc.
At Basho Strategies, we draw from the powerful world of sumo in our approach to sales training; an approach based on self-empowerment, mastery of form, and the creation of a sales-centric culture. Through our exclusive pipeline management program, "The Seven Basho Strategies," we concentrate on a series of powerful sales techniques that focus on self-reliance and tactical execution, immediately improving efficiencies within existing sales processes. Once employed, our clients enjoy the lasting impact of a unique training program that dramatically empowers their sales teams to achieve extraordinary sales results.
To learn more about how your company can take full advantage of our training and to register for our sales training workshops, please visit http://www.bashostrategies.com or call (781) 418-1700.
###