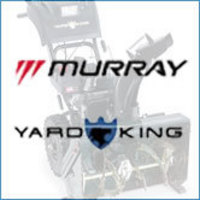 Shoppers shouldn't just settle for what's left collecting dust on the shelf. They want choices
Bolingbrook, IL (PRWEB) December 10, 2007

SnowBlowersDirect.com is expanding its online product offering with the inclusion of Murray and Yard King snow blowers.
The new online snow blower superstore doubled the number of snow blower brands currently sold online since it debuted in October.
In addition to Murray and Yard King, SnowBlowersDirect.com carries a complete line of Ariens and MTD Yard Machines snow blowers and accessories.
"Shoppers shouldn't just settle for what's left collecting dust on the shelf. They want choices," said Jon Hoch, founder and CEO of Power Equipment Direct, the parent company of SnowBlowersDirect.com.
Power Equipment Direct owns four niche online superstores. In addition to SnowBlowersDirect.com, the Bolingbrook, IL-based company operates AirCompressorsDirect.com, ElectricGeneratorsDirect.com and PressureWashersDirect.com.
###