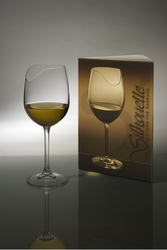 Yardley, PA (PRWEB) December 4, 2007
Silhouette, a unique piece of stemware that is redefining what it means to "drink a glass of wine," is proving to be popular holiday gift. As seen in Food and Wine Magazine's Holiday Gift Guide for 2007, Silhouette has captured the imagination of wine lovers as the tastiest and most comfortable glass in the world.
Inventor Peter Rigas says the simple but effective notched design of Silhouette, which turns every glass of wine into a multi-sensory experience, makes it an excellent gift choice. Red or white, bold or light, Silhouette is the only wine glass most enthusiasts will ever need.
"Silhouette makes a most memorable gift. It is unique, durable, beautiful and prestigious, all wrapped up into one unforgettable present," says Rigas.
The former restaurateur came up with the concept for Silhouette after watching his customers miss out on the full benefits their favorite wines had to offer. The secret to Silhouette's success is its notched rim, which seals in the aroma and captures the wine's true essence from the very first sip right through the last drop.
Traditional stemware is a woefully inefficient vehicle for bringing out the best in wine. The Silhouette glass is the only one in the world that allows wine drinkers to engage their senses, bringing to life all the complex flavors of today's wines.
"Ninety percent of flavor comes from the sense of smell," says Rigas. "Silhouette locks in the craftsmanship and artistry the vintner envisioned for each bottle of wine and locks out the odors that compete for your attention. The result is a powerful awakening of the senses and a truly memorable wine drinking experience."
Handcrafted from fine crystal by experienced European artisans, Silhouette is also an elegant piece of functional art that wine lovers will be proud to display. Its gentle curves and form-defining lines give Silhouette a distinctive look and feel rarely found in stemware.
For more information about Silhouette, including videos of the craftsmanship that goes into making each glass, or to order, go to http://www.greatestwineglass.com. Most orders are processed and shipped within 24 hours to assure quick delivery for the holidays.
###