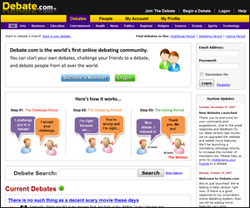 It is so simple and quite addicting
Sutter Creek, CA (PRWEB) December 4, 2007
Immigration, healthcare, taxes, and the Iraq war are the key issues being debated by the 2008 presidential candidates as they try to win over voters before the primary elections start in January, but these hot topics are only a small subset of the issues deemed worthy for debate by the members of Debate.com, the first online debating community.
Every day new topics are added, but issues such as abortion, religion, education, sports, and the presidential candidates are all topics that are currently being debated, critiqued and voted on by the community. With currently over 100 debates in progress, there is something that will interest everyone, and if not all you have to do is start your own debate.
"It is so simple and quite addicting," says founder, Crystal Ferreira, "it really brings out your natural instinct to argue until you are proven right." Debate.com launched a beta version of their site in October and officially came out of the beta period on November 27, 2007.
"We are thrilled with the progress of the site so far," says founder, Philip Ferreira, "we have a base of members that is steadily growing, and their feedback is extremely positive. Members come from around the world and from all parts of the political and social spectrum and are having fun debating the issues that interest them."
About Debate.com:
The concept of Debate.com was founded by WebCorp, LLC in the summer of 2007 out of a special passion for politics and debate by the husband and wife owners of WebCorp. Debate.com is a membership-based online debating community designed to provide an easy and free system for members to intellectually challenge, debate and communicate with each other on the Web. Members create their own unique profiles and our technology provides a "ratio of disagreement" with the other members based on the information that each member provides, making it easy to select an opponent or build a group of friends. Members can challenge existing members or invite anyone to come and debate them on a topic of their choice selected from a wide range of categories including Politics, Sports, Arts and Entertainment. A formal debate is between two members, the instigator and contender; but every member can participate in the debate by posting comments and voting on the winner once the closing arguments are presented. Debate.com is evolutionary in nature and will continue to add new features to encourage further education, discussion and communication among the members.
###