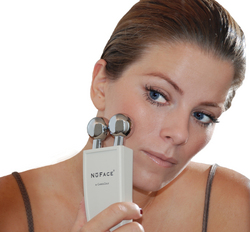 As a Sales and Marketing Executive, it's important to represent a product that is innovative and exceeds customer expectation. NuFace® truly is the next generation skin health care product. The lifted and toned results that everyone can achieve is astonishing, no matter what their age
San Diego, California (PRWEB) December 4, 2007
Carol Cole Company announces FDA clearance on NuFace® Home-Use Facial Toning device. The NuFace® is the first and only microcurrent hand-held device FDA cleared for cosmetic over-the-counter use for facial toning.
NuFace® is a home-use device that lifts and tones the face. NuFace® utilizes microcurrent technology which is a low level, safe and gentle alternating current that is emitted through dual spherical probes the user glides along the contour of the face. NuFace® is an ergonomic, battery powered handheld device that is light, compact and portable. An intensity controller allows the user to control the amount of microamps emitted.
NuFace® can be used daily as an extension to a healthy skincare regimen. NuFace® is also used in spas and medical offices by professionals, for a non-invasive approach to facial rejuvenation in addition to complimenting many in-office treatments such as LED, laser, invasive procedures and injectables. "Everyone who uses Botox® could benefit from microcurrent to maintain muscle tone and integrity", says Dr. Peter Pugliese, a recognized physician and author. NuFace® is non-invasive, non-ablative (no cutting) and requires no down time.
With 30% of the US population being baby boomers, the demand for anti-aging products is rapidly increasing. 90 million Americans currently use anti-aging products and procedures which lead to the projected 87% US annual growth of home-use esthetic devices. "As a Sales and Marketing Executive, it's important to represent a product that is innovative and exceeds customer expectation. NuFace® truly is the next generation skin health care product. The lifted and toned results that everyone can achieve is astonishing, no matter what their age," says Ron Ahlegian, Carol Cole's EVP of Sales and Marketing whose professional experience includes executive positions with Sonicare, Thermoscan, Interplak and other consumer product companies.
NuFace® is currently retailed at spas, medispas, and select online retailers including NuFace.net. NuFace® retails for $450.00 (Holiday Special $379.00). The NuFace® kit includes: NuFace® device, Derma-Gel (conductivity solution), Optimizing Mist (post treatment finishing mist), Instructional DVD, One (1) year warranty and 30 day money back guarantee.
To visit a spa or retailer near you go to "find nearest retailer" link on http://www.NuFace.net. For a spa and professional NuFace demonstration call 888-360-9171. NuFace® is a registered trademark of Carol Cole Company. NuFace® is a patent pending device.
ABOUT CAROL COLE COMPANY - The Carol Cole Company is a cosmetic and esthetic technology company focused on the development of contemporary devices and beauty treatments that aid in facial rejuvenation. Comprised of experts from esthetic and consumer product industries, the company is dedicated to providing innovative and effective esthetic products that are designed for professional and home use.
###