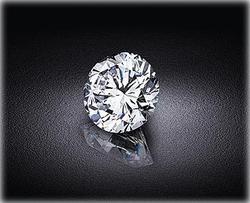 After turning down a buyout offer last year because we felt the price did not reflect our expected growth trajectory, its gratifying to see this kind of sales acceleration justifying our decision
Redmond, WA (PRWEB) December 5, 2007

BetterThanDiamond.com today announced sales revenue for November increased 46% versus the previous calendar November. This continues the trend of accelerating double-digit sales growth for the companies lead product, the Asha® Diamond Simulant.
Sales channels experiencing the largest increases were international sales (Australia) and wholesale sales to jewelry retailers. The company's Takara Diamonds subsidiary, which offers pink and yellow lab grown diamonds, also experienced increased demand but due to low production ability, did not contribute substantially in terms of total dollar sales.
"After turning down a buyout offer last year because we felt the price did not reflect our expected growth trajectory, its gratifying to see this kind of sales acceleration justifying our decision" commented Less P. Wright, BetterThanDiamond's president. "The Asha® is becoming a recognized leader in the high-end diamond simulant category, and we are working hard to continue to grow production to keep up with demand". Mr. Wright noted that the company had not been able to meet demand this summer when orders eclipsed their slated production for several key sizes of the Asha®, resulting in some sizes being out of stock for up to two months.
BetterThanDiamond.com's management anticipates that next years sales growth will continue in the double digits. Mr. Wright further noted that there may be additional upside to those estimates based on increased production of its Takara lab grown yellow diamonds, as well as the possibility of finalizing a supply relationship for the Asha® with one of the United States largest ring manufacturers.
About BetterThanDiamond.com
BetterThanDiamond.com is the manufacturer of the Asha® diamond simulant, which uniquely employs lab grown amorphous diamond in its construction to provide an ultra-realistic diamond simulant. BetterThanDiamond.com's subsidiary, TakaraDiamonds.com specializes in offering true lab grown diamonds (pink and yellow) for retail and wholesale sales. BetterThanDiamond.com is a privately held corporation headquartered in Redmond, WA with customers in over 25 countries. More information at http://BetterThanDiamond.com and http://TakaraDiamonds.com .
© BetterThanDiamond.com 2007 Asha® is a registered mark of BetterThanDiamond.com, all rights reserved.
###