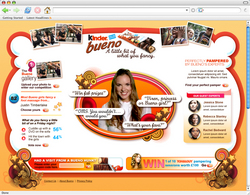 UK (PRWEB) December 5, 2007
Want to make the most of the party season? Well, look no further than Kinder Bueno's website alittlebitofwhatyoufancy.com. The purveyors of those permissible pods of chocolate pleasure have invited an array of expert bloggers to offer their top tips and suggestions on how to have the best party this Christmas.
As part of its campaign to offer 'a little bit of what you fancy', the site has already offered glamorous advice to women from ultimate fashion blogs Catwalkqueen.tv, Shoewawa.com and Kissandmakeup.tv, and pampering advice for those quiet autumn nights in.
By answering a series of fun questions, visitors can discover what category they fall into - anything from Rock Chick to oozing Pure Class! And, depending on their profile, they receive advice on hot topics such as achieving the maximum impact from their perfume, staying comfortable in high-heeled shoe boots, or organising their wardrobe into sections by style and colour.
So be sure to visit the site for guidance on the best way to enjoy the Christmas party season. Whether you're a pub girl, a clubber or a socialite, the experts will be on hand to advise you on how to get 'a little bit of what you fancy' - with minimum fuss and effort.
And watch out for the next group of experts in the New Year, who will be providing advice on recuperating from all the partying, including tips on winter breaks.
alittlebitofwhatyoufancy.com is packed with picture galleries, great competitions, fun stats and surveys, and features Hollyoaks star Jodi Albert along with online TV celebrity Layla Anna Lee as the faces of Bueno.
For more information, please contact Simon Judges at immediate future on 0845 408 2031 / 07949 138017.
Notes to editor
Kinder Bueno is a mouth watering combination of light, crispy wafer and a creamy hazelnut filling, all wrapped up in smooth milk chocolate. Delicious Kinder Bueno is available at grocery stores and newsagents priced at RSP 42p.
###