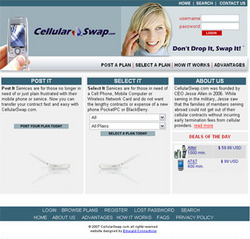 I'm very excited to introduce CellularSwap.com to America
Austin, TX (PRWEB) December 5, 2007
Cell phone users bound by cell phone service contracts can now take control with CellularSwap.com. Beginning in December 2007, users will have access to a nationwide network of cell phone users to compare cell phone plans and swap out their current contract for one that better suits their needs. An innovative idea in today's world of contractual obligations, CellularSwap.com brings freedom and flexibility to wireless plans.
"I'm very excited to introduce CellularSwap.com to America," says CellularSwap.com Founder and CEO Jesse Allen. "Now you can get out of your wireless contract, saving up to $250 per line. You can also find a short term contract and never have to pay up to $50 in providers' activation fees. We're here to save money for the millions of Americans who want out of their wireless contracts or are looking for a new wireless plan with any national carrier."
Unlike long term contracts, wireless customers can save hundreds of dollars by avoiding the pitfalls of early termination fees with CellularSwap.com. Those looking for a new cell phone plan can browse through listings and compare cell phones to find a contract that is specifically tailored to their needs. On the other hand, those hoping to drop their current cell phone service can get out by joining the CellularSwap.com network and posting their phone and plan for others to take over.
"Our service provides a simple and cost effective way for anyone who wants or needs to opt out of an existing cell phone contract. It's safe, and you work directly with your provider during the transfer process. Those experiencing a change in their lives that necessitates a change in their wireless needs -- families, college students, military members -- have a lot to gain from our service," Allen says.
In addition to conducting a free cell phone search and performing cell phone plan comparisons, CellularSwap.com has a special service that notifies prospective customers when a plan, service, contract length or phone that matches their needs is found. With the holiday season in full swing, shoppers can save even more money with this innovative service.
Posting a cell phone plan costs as little as $9.95, and accepting a new cell phone plan is always free. To learn more about the swap process or to swap out your current contract without delay, visit CellularSwap.com.
About CellularSwap.com:
CellularSwap.com was founded by Jesse Allen in 2006 to provide a solution for the difficulties involved in ending a cellular phone contract. CellularSwap.com is a ground-breaking service, offering an online forum for cell phone users to compare cell phone plans and transfer their contract without the hefty termination fee. The company is dedicated to helping users find the best deals in a cellular phone service through their "Don't drop it; Swap it" approach.
###