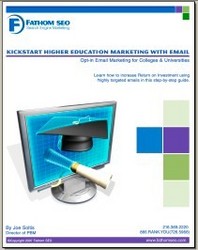 The most important part of building your marketing database is to ask for affirmative consent.
Cleveland, OH (PRWEB) December 5, 2007
Many highly successful and well-regarded colleges and universities have embraced opt-in email marketing as a means of communication with prospective students, current students, parents and alumni. The question is: How does a college or university make the most of email marketing?
With help from Fathom SEO's newly released "How to Kickstart Higher Education Marketing with Email," colleges and universities get an insider's take on the best steps to create an effective email marketing campaign. The guide and accompanying online video summary may be downloaded at http://www.fathomseo.com/education-email/.
"Email marketing can be a powerful tool for increasing qualified inquiries, but it has to be done correctly to protect the reputation of the school or university," said Joe Soltis, author of the guide and Fathom SEO's Director of Permission-Based Marketing. "The most important part of building your marketing database is to ask for affirmative consent."
The step-by-step guide provides an easy-to-follow process that ensures successful communication and response rates. It also offers tips for using email marketing for non-enrollment purposes, including fundraising and career services assistance. Technical requirements of email marketing are also addressed.
"As the competition increases among colleges and universities, it's becoming more and more important to showcase the best aspects of attending your school, whether it's student life, quality of education, a great sports program or a lower admission price," Soltis said. "Email marketing gives higher education institutions a cost-effective way of targeting prospective students and parents - as well as current students and alumni - with more information about what they're interested in."
About the Author
Joe Soltis is the Director of Permission-Based Marketing for Fathom SEO. Joe and his staff have successfully managed the opt-in email marketing campaigns of more than 80 colleges and universities. Joe has worked in the Internet Marketing arena since 1997.
About Fathom SEO
Fathom SEO is an ethical Internet marketing firm, specializing in organic search engine optimization, opt-in email marketing, online public relations, Internet video production, link popularity building, pay-per-click advertising. Fathom SEO has worked with Eaton Corp., FedEx Custom Critical, Bissell, Career Education Corp. and Cleveland Clinic.
###