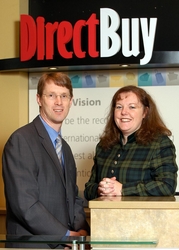 It's already had an impact on our showroom
Ottawa, Canada (PRWEB) December 6, 2007
DirectBuy of Ottawa recently earned the Consumers' Choice Award for Business Excellence in the category of blinds. For 20 years, the Consumers' Choice Award, known as the CCA, has recognized businesses held in the highest regard by consumers in major cities across North America.
Award winners are determined entirely by public opinion through surveys conducted by independent polling firm Léger Marketing, an associate of Gallup International Association. Franchisees Frank Andrée and Chantal Lapalme say that the Consumers' Choice Award holds special significance because it reflects the positive standing of their showroom in the Ottawa area and the satisfaction of their members.
"Because the Consumers' Choice Award is recognition from an outside entity based on public opinion, it reflects a strong perception in the minds of consumers in terms of quality," says Andrée. "Blinds are one of the most marked-up products in a traditional retail store, and this shows that members are happy with what they've bought at DirectBuy."
Andrée, Lapalme and three of their showroom employees received the plaque from a member of Parliament at the CCA's annual black-tie gala. In addition, the showroom received the exposure of a lifetime, because the event and short profiles of each award-winning business aired on Friday, June 29, on the A-Channel Ottawa.
"It's an incredible opportunity for businesses to not only be recognized by consumers, but also for their achievements to be celebrated by dignitaries from different levels of government," says Consumers' Choice Award Vice President of Marketing and Development T. Gazith.
At DirectBuy of Ottawa, the entire team is thrilled with the honor. Already, the franchise is using the CCA logo in advertising, on their delivery truck, and on their showroom windows to show their pride at being part of an exclusive circle of business leaders that have earned the loyalty and trust of their community.
"It's already had an impact on our showroom," says Andrée.
###