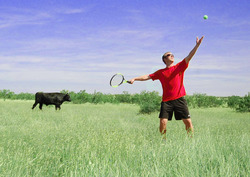 This is a true testament to the quality of our product and the loyalty of our customers.
Alex O'Brien (PRWEB) December 6, 2007
former No.1-ranked doubles player and winner of the US Open men's doubles title in 1999, has made the transition from the green grass of Wimbledon to the tall grasses of the Texas Plains. His new company Littlefield Ranch offers USDA-Prime Texas steaks to individuals and corporations on the web at http://www.littlefieldranch.com.
With his family in the cattle business for four generations, starting Littlefield Ranch simply meant the continuation of an 80-year family tradition.
In 1927, Will O'Brien, Alex's great grandfather, closed what may have been the biggest cattle deal in U.S. history to date. He brought over 10,000 cattle to Amarillo, Texas, Alex's hometown and headquarters for Littlefield Ranch. Alex's father, Bill, continues the tradition, running Texas Beef, the family's ranching, farming and cattle feeding company, which raises more than 200,000 cattle a year.
Alex, a 37-year-old Stanford University graduate and president of Littlefield Ranch, decided to add value to the family tradition by bringing some of Texas Beef's quality Prime steaks directly to the consumer. Littlefield Ranch's philosophy is to keep it simple, offering only the big three premium cuts (rib eyes, strips, filets) to steak connoisseurs around the country. All cuts are aged for at least 14 days, guaranteeing a tender and tasty steak.
Littlefield Ranch is able to offer a higher quality steak because of its integrated supply chain. Texas Beef buys animals of consistent quality from suppliers with whom it has long-term relationships and feeds and takes care of each animal with time-tested efficiencies.
Littlefield Ranch's quick success has surprised even O'Brien. "When I started the company, I would never have dreamed that it would grow this rapidly simply from word of mouth," he said. "This is a true testament to the quality of our product and the loyalty of our customers."
Littlefield Ranch steaks can provide the centerpiece for any meal from a casual dinner for two, to a family celebration, to a corporate outing. In a continuation of the family theme, Alex's wife Meg provides some recipe ideas and cooking tips on the web site.
Littlefield Ranch Prime steaks are popular holiday gifts not only for friends and families but for large corporations, including HBO. HBO executive Sloan Kennedy said, "We were looking for a unique gift to say thank you, and Littlefield Ranch corporate gift certificates created quite a positive reaction among our clients."
O'Brien's customers also include celebrities, such as tennis legend Pete Sampras and sportscaster Rich Eisen. Sampras, who holds the men's record for most Grand Slam singles titles, says that after eating at top restaurants around the globe, "never have I had a tastier steak than Littlefield Ranch."
The beef world gives its nod to Littlefield Ranch as well. Texas cattle nutritionist Abe Turgeon said, "we absolutely loved the steaks -- tender, juicy and full of flavor. They exceeded our expectations. Delivery was prompt. We liked the little thermometer as an added feature, and I especially liked the brochure describing a bit of history on the product. We will be ordering more in the future."
###