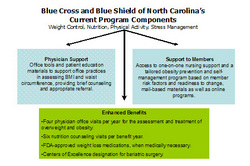 Businesses should take note, that healthier behaviors not only result in healthier workers, but it's one way to keep rising medical costs in check. Now that's a result we can and should go after.
Chapel Hill, N.C. (Vocus) December 5, 2007
Results were just released from Blue Cross and Blue Shield of North Carolina's (BCBSNC) two-year study (2005-2006) of a preventive health program comparing participants' average medical costs before and after enrolling in the program.
Simple lifestyle changes added up to big savings – $187 annually per participating member in BCBSNC's Healthy Lifestyle Choices – a program that offers tools and resources to help participants engage in regular exercise and nutritious eating. Savings over the two-year period totaled $437,729 for the 1,171 participants studied. Medical expenses were one-third less than the average medical trend. The implication: Living a healthier lifestyle can save money.
"The evidence speaks for itself. There's money to be saved when people get serious about their health," said Helen Darling, president of National Business Group on Health. "Businesses should take note, that healthier behaviors not only result in healthier workers, but it's one way to keep rising medical costs in check. Now that's a result we can and should go after."
In addition, participants significantly increased how many days they exercised each week and ate more fruits and vegetables. The results suggest that inactivity and obesity aren't just personal risks people take, but are contributing to the rising cost of health care.
"Our job is to help people live healthier lives," said Dr. Don Bradley, a family physician and chief medical officer at BCBSNC. "We know it's the right thing to do, and now economically, it looks like the smart thing to do. This isn't just a quick fix. We're looking for a true lifestyle change and that's why we offer people the tools they need over the long-term to improve their health."
According to a 2007 report by the Trust for America's Health, North Carolina has the 17th highest rate of adult obesity and the fifth highest rate of overweight youths (ages 10-17) in the nation. In 2004, BCBSNC found that members who are overweight cost the company 18 percent more than normal weight members in medical claims and expenses, and obese members cost 32 percent more. Preventive health programs from BCBSNC are aiming to curb that trend.
"The program appealed to me because it was proactive," said Ed Silberhorn, a BCBSNC member enrolled in the program. "Why wait until something happens, when you can take charge and try to prevent issues?"
Since joining the program, Silberhorn started walking a quarter mile a day, made healthy changes to his grocery list and cut back on his coffee intake. He also started doing sit-ups, push-ups and repetitions with 15-pound dumbbells each morning. His efforts impacted not only the bottom line, but his waist line. Silberhorn lost 12 pounds and has kept it off for more than a year. During his last physical, his doctor was satisfied with his progress and even recommended that he go off one of his prescription medications.
"I saw that as a real positive," Silberhorn said. "It was really reaffirming that my lifestyle changes had made a positive difference."
The success of Healthy Lifestyle Choices has led BCBSNC to expand its healthy living offerings. The program is now part of BCBSNC's Member Health Partnerships(SM), which gives members access to a wide variety of health and disease management resources. Participants receive a step counter, lifestyle diary and a stress management CD. They also have access to helpful online tools that guide them in making decisions about their fitness, stress levels and eating habits.
Recently added benefits include one-on-one health coaching, where members can talk to a registered nurse about losing weight, chronic conditions or other health issues. Most members who enroll also have access to six free nutritional visits.
Employers or individuals who have BCBSNC insurance may visit http://www.bcbsnc.com/whatsnew to enroll or learn more about the program (1).
About BCBSNC:
Blue Cross and Blue Shield of North Carolina is a leader in delivering innovative health care products, services and information to nearly 3.6 million members, including approximately 825,000 served on behalf of other Blue Plans. For 74 years, the company has served its customers by offering health insurance at a competitive price and has served the people of North Carolina through support of community organizations, programs and events that promote good health. Blue Cross and Blue Shield of North Carolina is an independent licensee of the Blue Cross and Blue Shield Association. Access BCBSNC online at http://www.bcbsnc.com
1 Blue Cross and Blue Shield of North Carolina (BCBSNC) provides the Member Health Partnerships program for your convenience and is not liable in any way for the services received. BCBSNC reserves the right to discontinue or changes the program at any time. Some employers have elected not to make the BCBSNC Member Health Partnerships program available to their employees. Check with your benefits administrator to determine your eligibility. Benefits available through the Member Health Partnerships program are subject to your current benefit plan and pre-existing waiting periods.
Related Links:
http://www.businessgrouphealth.org
http://www.bcbsnc.com/whatsnew
http://healthyamericans.org
Contact:
Valerie Egel, Kyle Marshall
BCBSNC Media Line: 919-765-3005
Online Newsroom:
http://www.bcbsnc.com/inside/newsroom.cfm
###