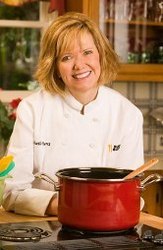 Fort Worth, TX (Vocus) December 5, 2007
According to the publication Vital Stats, 60 percent of Americans feel they do not have enough time to get everything done in the average day. That number, no doubt, increases during the busy holiday season. But Judie Byrd, co-author of A Mother's Manual for Holiday Survival and founder of Super Suppers, offers a variety of holiday tips and shortcuts from the book she co-wrote with her friend Kathy Peel:
Decorating Ideas:
Ornaments -– Make your own holiday ornaments to decorate your tree, tabletop or home with things you probably have on hand this holiday season anyway.

Bundle cinnamon sticks with red bows and glue
Wrap homemade popcorn balls in colored plastic wraps to display now and enjoy later
Recycle old holiday cards by tracing cookie cutters on them and cutting out the shapes to hang or use as nametags on gifts or place settings
Wrap small, inflated balloons with string soaked in liquid starch; after the string dries (overnight), pop and remove the balloon
Garlands -– Strung on the tree, in doorways, on the table and on chairs or even wall to wall across a room, garlands are a great way to add holiday flare to your home. Dental floss, an embroidery needle and some popcorn, cranberries, gumdrops, marshmallows and/or pasta of various shapes, sizes and colors and maybe some spray paint or spray snow is all you need to make fun, festive and – in some cases – edible garlands.
Scents of the Season -– Candles are great, especially this time of year. For flame-free aromas try potpourri balls, cinnamon spice ornaments or simmer scents instead.

Potpourri Balls –- Cover a 3-inch Styrofoam ball with glue. Roll the ball in potpourri. Add more glue and potpourri until the ball is completely covered. Hang them from your tree, or place them in a bowl.
Cinnamon Spice Ornaments –- Mix ¾ cup ground cinnamon, 1 tablespoon allspice, 2 tablespoons ground cloves, 1 tablespoon nutmeg and 1 cup apple sauce in a bowl. Spread the mixture on waxed paper to ¾-inch thickness. Using cookie cutters, cut holiday shapes in the mixture, and peel away the excess dough. Make a hole in the top of each ornament with a toothpick and let the shapes dry on the wax paper (it will take four or five days). Thread ribbon through the hole to hang the ornaments on the tree.
Simmer Scents –- Put a chopped apple and the peelings from an orange in to a small pan of water. Add a cinnamon stick, some whole cloves and a teaspoon of nutmeg and allspice then bring the pot to a boil. Reduce the heat to low and allow the mixture to simmer on the stove, adding water as needed.
Holiday Traditions:
For Your Young Kids –- Young kids are wonderful during the holiday season. To see their faces and their excitement at all the little things that the rest of us take for granted really reminds us of the joy this season can offer, if we just slow down. Many kids' activities need close supervision but there is lots of fun to be had.

Faux Fireplaces –- Take an appliance box or other large pieces of cardboard, cut a hearth hole in the front of the box and then cover the rest of the box with brick-patterned contact paper or just stick construction paper or paint rectangles to look like bricks on the box. Kids will enjoy hanging stockings above the fake fireplace and even taking turns playing Santa coming out of the chimney.
With Bells On –- Tie small bells to your children's tennis shoes or pin them to their clothes. They'll enjoy their jingle and, more than likely, more than a few choruses of "Jingle Bells" will be heard as they make their way around the house.
Sugar-Plum Tea Party -– Have a tea party with your children and their friends (and other parents, too). Prepare sugar-plums by mixing one cup chopped, diced fruits (apricots, apples, dates or mixed fruits), ¾ cup chopped nuts and/or coconut and two tablespoons orange juice or maple syrup in a bowl. Form the mixture into 1-inch balls and roll the balls in granulated sugar. You can make the sugar plums ahead of time too, just cover the fruit balls and store them in the refrigerator for up to six weeks.
For Your Older Kids –- Unlike young kids, by the time your kids are teens (or younger in some cases), some of the "magic" of the holiday season may be dwindling away. There is still no reason they cannot enjoy themselves and recapture some of that magic through some fun and easy traditions.

Cookie Swap –- Get your older kids together with their friends and make a variety of delicious holiday cookies as the focus of the party or have kids come to the party with their favorite holiday cookie or cookies with them. Guests can enjoy some of the cookies at the party and then divide the remaining cookies to take a variety of holiday treats home to share with their families.
Make a Jeweled or Buttoned Picture Frame -– Use a hot glue gun to cover inexpensive picture frames with old costume jewelry, spare buttons or beads from the craft store. Your kids can put pictures of family and friends in the frames and give them as gifts or put them in their bedrooms.
Jewelry -– You can make all sorts of necklaces, earrings, barrettes and pins using craft store items and spare buttons, jewels, beads and even animal crackers and other treats you have around the house. Use a hot glue gun and some patience to make beautiful jewelry for the season.
In addition to all of the fun, family activities, the holidays are also an important time for great food and celebrations.
Super Suppers, one of the nation's leading companies offering Take n' Bake meals at nearly 200 stores in 40 states, has expanded its selection of side dishes with a variety of savory and sweet treats to help busy hosts fill the table for their family meals and the buffet for larger holiday celebrations.
Savory sensations for the holiday season include annual Super Suppers favorites such as Cowboy Caviar and Cranberry Barbecue Meatballs as well as new takes on traditional offerings including the Apricot Almond, Cranberry Pecan and Pecan Praline Baked Bries; Biscuit Bites; and Sun-Dried Tomato and Goat Cheese Braided Bread as well as hearty Hot Artichoke, Hummus, and Super Spinach dips.
Sweeter fare in time for the holidays include Mint Chocolate Lover's Paradise; easy to bake Chocolate Chip, Cranberry Oatmeal and Oatmeal Raisin Cookies; Chocolate Peanut Butter Bars; Double Crusted Apple Cranberry Cobbler; Caramel Apple Upside-Down Cake and Hello Dolly Bars. Super Suppers is even helping to make holiday breakfasts and brunches special with Cinnamon Pull-Apart Bread and Raspberry Cream Cheese Strudel.
Hosts can bake these delicious treats, filling their homes with the scents of the season, delighting guests and building excitement for the goodies to come.
Super Suppers also today announced its complete Holiday Dinner that will be available for the month of December. This meal includes Chicken or Pork Marsala; sides include Mashed Potato Casserole or Twice-Baked Stuffed Potatoes and Green Beans with Pearl Onions or Home-Style Green Beans. All meals include ready-to-bake dinner rolls and Double Chocolate Layer Cake.
No matter what choices hosts make, families and friends will enjoy these easy-to-prepare meals and hosts will enjoy having the time they might have otherwise spent cooking from scratch to do other, more enjoyable things this holiday season.
About Super Suppers:
Super Suppers is the answer to the age-old question, "What's for dinner?" Customers visit our professional kitchens for great-tasting Take n' Bake entrées, which they take home and cook later at their convenience. We provide further meal simplicity through services such as our Grab n' Go freezers, stocked with entrées, sides and desserts, as well as fast, convenient Curbside-To-Go call-ahead service. Super Suppers was established by Judie Byrd, founder of the Fort Worth Culinary School. Recognized by Newsweek magazine as one of America's fastest growing franchises, and by Entrepreneur magazine as the fourth best new franchise for 2007, Super Suppers has more than 200 locations in 40 states. For more information, visit http://www.supersuppers.com.
For more information Contact:
Sean C. Amore
Associated Advertising
(316) 683-4691 x216
# # #