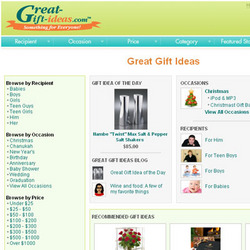 Austin, TX (PRWEB) December 5, 2007
Great-Gift-Ideas.com announces thousands of new products and added mini stores to continue to provide customers with the greatest collection of hand-picked gifts. Gift searching is made easy by filtering gift options by recipient, occasion, price, and category. Use multiple filters at the same time to narrow down choices from over 75 online retailers. Or, choose to shop by category within stores to see all their best gift products and save with the latest coupon codes.
Shopping for gifts can be stressful and these days the favorite go-to gift solution is a gift card, but a hand picked gift is more sentimental. Gift-seekers will find everything from a marshmallow rotisserie and an old fashioned movie time popcorn machine, LEGO toys and iPods. Editors at Great-Gift-Ideas understand the stress of finding the right gift, so each gift is reviewed carefully and sorted into appropriate categories so users can find the perfect gift with ease.
Site visitor Camille Bollinger says "I used the Great Gift Ideas Under $25 category to find a terrific gift for my office holiday gift exchange. The $25 limit had me stumped until I found out this site had over 1000 gifts to fit my budget all in one spot!" If users are looking for something more general for a hostess, housewarming, or a gift for someone they don't know very well, Great-Gift-Ideas.com suggests price filters and looking at the Home and Gift Basket categories. More specifically, GotFruit fruit gifts have been a long-standing favorite with shoppers. They carry perfect crowd pleasing fruit gifts in all shapes and sizes including holiday gifts, organic gifts, gourmet fruit baskets, towers, and more.
While Chanukah and Christmas are the gift giving holidays in the forefront of everyone's mind, occasion filters for gifts don't end there. For example, a guy searching for a Valentine's Day gift idea for his wife could search on the following filters: for her, Valentine's Day, personal style, jewelry, and price to find the perfect piece of jewelry that would make anyone smile. Great-Gift-Ideas.com provides a year-round resource for finding wonderful gifts.
The latest site update includes featured retail stores that showcase editor-selected best gift ideas from chosen top gift companies. These stores work well for shoppers who are searching for gifts and decide they would like to see what a particular company has to offer like Hammacher Schlemmer gifts. These stores are simple and easy to navigate with well organized gift categories.
Gift shopping can get tricky when a budget is involved, but Great-Gift-Ideas.com's price filter solves that problem. Gift seekers can find gifts that fit any budget from gifts that cost well over $1000 to a few hundred from retailers who carry products like eLuxury designer clothing and purses. The site also lists over 2500 thoughtful toys, gadgets, accessories, gifts for the home and more for less than $100, all hand-picked editor favorites.
Another handy resource is the Great Gift Ideas Blog which is updated frequently by a group of Great Gift Ideas Bloggers who are experts on sports, fashion, cooking, gadgets and everyday solutions. Each blogger, Calvin, Eric, Mollie, Scott and Shannon has a very different, opinionated personality. They write about favorite gift choices, who those gifts are great for and share insight on products related to their field of expertise.
Daily blogs fall under three categories: Great Gift Ideas of the Day, Buying Great Gifts, and Guide to Gift Giving with top holiday gift ideas. Check back often to see what new and exciting products have caught the bloggers' eyes or find tips for giving the best gifts. Users can subscribe to the RSS feed for the most up-to-date, easiest access to the Great-Gift-Ideas Blog.
Great-Gift-Ideas.com is excited to announce the latest additions of new products and brand-specific stores just in time for the holiday shopping season. There is still plenty of time left to find the perfect holiday gift using Great-Gift-Ideas.com gift searching features and have them shipped before the season is over. Don't wait until the last minute, visit Great-Gift-Ideas.com today to find perfect holiday gifts.
About Great-Gift-Ideas:
Great-Gift-Ides.com was created by a group of friends who wanted to give and receive better gifts for holidays, birthdays, anniversaries, etc. They figured that by making educated editor's picks to lead their friends and family in the right direction, they could avoid ever receiving (or giving) another necktie or fruit cake. Great-Gift-Ideas.com has grown to include over 5000 products from over 75 major online stores across the US.
###