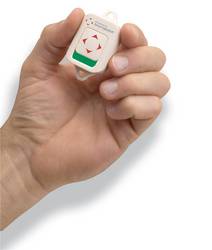 Being selected after such an extensive competitive analysis is a great achievement for Awarepoint. It reinforces that our ZigBee sensor network, non-disruptive deployment and financial business model are the ideal choice for hospital asset tracking. We are honored to have been chosen by UCSF Medical Center to provide an accurate and effective real-time location solution
San Diego, CA (PRWEB) December 5, 2007
The University of California, San Francisco (UCSF) Medical Center recently announced it has selected San Diego-based Awarepoint's Real-time Awareness Solution® as their asset tracking partner. After a rigorous evaluation process, Awarepoint's RFID real-time location system (RTLS) was chosen to efficiently track the location, status and movement of the hospital's mobile medical equipment.
UCSF Medical Center's project team reviewed active RFID options from six in-depth proposals presented by vendors representing numerous RFID technologies. The selection process then required an on-site proof of concept where Awarepoint successfully demonstrated real-world use cases of nine different scenarios, including:

non-disruptive installation during normal daily activities
tracking equipment at multiple locations across 1.5 miles
locating assets placed deep in metal storage carts within surrounding electronics
proving the accuracy of the location engine (location precision)
proving the self-healing nature of the sensor network when a sensor is disabled or removed
For the on-site proof of concept, each candidate was given a total of six hours to install their system in multiple buildings, demonstrate the various scenarios requested by UCSF Medical Center and finally remove the system. Unlike other RFID asset management technologies, Awarepoint's ZigBee sensor network needs no hardwiring or fixed infrastructure: wireless sensors simply plug into electrical outlets to form the self-healing Awarenet™ mesh network, then small, battery-powered tags are securely attached to assets, which are tracked using the web-based Searchpoint™ search engine. This patented technology allowed Awarepoint to successfully complete all tasks within the allotted time.
Through the detailed evaluation process, the UCSF project team identified success criteria, then weighed and scored these criteria across all finalists. The contract was awarded to Awarepoint with a score of 81% overall. The subsequent Wi-Fi vendor received an overall score of 63%. "Awarepoint was a strong leader and was accepted as the negotiation team's first choice," said Alisa Armstrong, project manager for UCSF Medical Center.
Within 2 weeks following the contract award, Awarepoint has been deployed and over 700 assets were tagged in less than 48 hours. "The UCSF team was excited, engaged and prepared for us. Thanks to their responsiveness, this was one of our fastest installations to date," said Mike Addis, sales engineer at Awarepoint.
"With the installation of Awarepoint, the UCSF operating rooms' equipment will be reliably retrievable within minutes including weekend and after hours shifts," added James Bennan, administrative director for perioperative services. "Long delays looking for unique items such as MRI-compatible equipment will be eliminated and our ability to rapidly find difficult intubation carts and other urgently needed items will be greatly enhanced. In addition, Clinical Engineering will be able to identify maintenance issues proactively, rentals will be tracked and logged for return and equipment conflicts will be minimized."
"Being selected after such an extensive competitive analysis is a great achievement for Awarepoint. It reinforces that our ZigBee sensor network, non-disruptive deployment and financial business model are the ideal choice for hospital asset tracking. We are honored to have been chosen by UCSF Medical Center to provide an accurate and effective real-time location solution," said Jason Howe, chief executive officer of Awarepoint.
About UCSF Medical Center
Ranked among the top 10 of the nation's academic medical centers, UCSF Medical Center is a leading university dedicated to defining health worldwide through advanced biomedical research, graduate-level education in the life sciences and health professions, and excellence in patient care.
About Awarepoint Corporation:
The Awarepoint Real-time Awareness Solution delivers healthcare providers reliable location, status and movement information to remotely monitor equipment and people. Using minimal hardware and no hard wiring, Awarepoint offers a completely non-disruptive, rapid impact implementation - even in occupied patient rooms. This award-winning solution enables hospitals to map resources, monitor activity and measure performance to more effectively timprove business processes that impact patient care and operational efficiencies. Awarepoint is provided as a fully tmanaged service, including 24/7/365 remote system monitoring and full maintenance of hardware and software, requiring no hospital IT resources. The company is headquartered in San Diego, California and serves hospitals across the United States through a national sales and operations workforce. See what's new at http://www.awarepoint.com
###