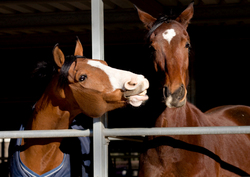 I receive the email orders and can track by customer or products without spending thousands on a costly website
Carson City, NV (PRWEB) December 5, 2007
USHorse.biz, a one-stop equine web portal, launched a new national online equestrian directory to make online shopping for horse-related products and services easy and convenient.
Individuals and groups signing up for USHorse.biz business membership receive an automatic listing in the equine web portal's national online directory and have access to USHorse.biz services, such as custom web sites and other online tools for reaching equestrian shoppers across the country.
Equine business owners can purchase a web page or opt for a custom web site, featuring 24/7 tech support. Tack stores can showcase products, authors can post articles or books for sale, professional and amateur photographers can upload photos, artists can display latest works, and horse trainers, boarding facilities, breeders, show venues, and other equine-related businesses can promote their services.
This month's featured USHorse.biz custom site, USHorse Feed and Shavings, includes an easy-to-use online ordering system perfect for feed stores or other small businesses. This template, which works as a stand-alone site or as an add-on to an existing site, costs just a fraction of a shopping cart site.
"I receive the email orders and can track by customer or products without spending thousands on a costly website," said Jodi Haas, partner in the feed and shavings business, which services the horse shows at the Los Angeles Equestrian Center in Burbank, CA.
"With our custom web sites, even a small business owner can create a powerful online presence," says USHorse.biz CEO Judy Walker. "And with tools such as our online ordering system, selling your equine services and products couldn't be easier."
###