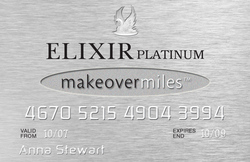 (PRWEB) December 6, 2007
ELIXIR, the independent magazine and ezine http://www.elixirnews.com , focusing on healthy ageing today announced the launch of the first privilege card offering global subscribers a comprehensive range of discounts (10-25%) on beauty aesthetics (non-surgical treatments) and related services and products (hairdressing and trichological experts, beauty and aesthetic clinics, cosmetic dentists, gyms, spas, lifestyle consultants and personal trainers). Cosmetic surgery is not included in the scheme and only those aged 18 and over are eligible for membership.
The ELIXIR PLATINUM offers discounts internationally (including holiday spas as well as city destinations such as Beverly Hills & Moscow) plus the UK for a $203 (£100) annual fee, while the ELIXIR PINK card at $101 (£50 )offers similar benefits in the UK including top clinics in London's Harley Street. Both are available to subscribers anywhere in the world. For every £100 privilege cardholers spent they will receive a Makeover Mile which will entitle them to further discounts on exclusive beauty products and services as well as free gifts. Although the initial launch is in the UK, the card is being rolled out in all major territories together with appropriate products and service providers.
Since the price of any aesthetic treatment, such as Botox can cost anything from several hundred dollars, the outlay for the card will easily be recouped.
ELIXIR MAKEOVER MILES is being supported by the top names in international beauty including, for example, Neville Hair & Beauty of Belgravia, London, whose clients include socialites, models, royalty, celebrities etc including model Elle Macpherson, actress Elizabeth Hurley, Lady Helen Taylor, Nigella Lawson, actress Zoe Lucker, Erin O'Connor and former prima ballerina Darcy Bussell amongst others.
This is because ELIXIR privilege card holders will be donating 10% of their privilege card (which can be purchased online at http://www.elixirnews.com) fee to the UK registered charity, Changing Faces, which supports and represents people who have disfigurements from any cause. As well as offering counselling and practical advice on managing other people's reactions, the charity also campaigns to raise public awareness and change attitudes.
Elixir Managing Editor, Anna Morris said: "Whilst interest in health, beauty and aesthetics has never been greater and we therefore believe it is important to provide our readers with a useful and valuable service, it is also salutary to remind ourselves that happiness is not achieved through so-called physical perfection on its own. Changing Faces believes that it is vital for everyone to feel good about themselves - inside and out - and that's why we have chosen to support this unique and pioneering charity."
Chief Executive of Changing Faces, James Partridge said: "People who have disfigurements also enjoy beauty products and pampering - like everyone who reads ELIXIR - and yet you rarely see someone with a disfigurement in beauty advertising. It's time to see a woman with a birthmark, for example, promoting the latest lipstick shade. Only then will the industry truly represent all of its clients and show that it celebrates the attractiveness of all faces."
ELIXIR MAKEOVER MILES is being supported by top names in international beauty, aesthetics, hairdressing and beauty spas. These are just a few:

The BA Clinic, Knightsbridge, London
Paul Edmonds Hair & Beauty, Knightsbridge, London
Neville Hair & Beauty, Belgravia, London
Biolustre hair rejuvenation system
Beauty Works West of Nottinghill, London
Cosmedics, London
Cosmetic Solutions, Harley Street, London
The Harley Dental Implant Centre, Harley Street
NoshDetox Delivery, London (delivers within M25 area)
Katrine Jackson Hair and Beauty, Covent Garden, London
The Harley Street Medical Skin Clinic, Harley Street, London
Harley Street Hair Clinic, Harley Street, London
Forma Cosmetic Dentistry, Harley Street, London
Dr Denese of New York - Cosemeceuticals purchased online at http://www.drdenese.co.uk
SkinGenesis of Chester, Leeds and Manchester
http://www.thevitalityshopuk.com (nutraceuticals)
The Estheva Spa, Singapore
Reiters Burgendland Resort, Austria
Clinic of Cybernetic Medicine, Moscow
Raj Chopra MD, Beverly Hills, California
Dr Nick Delgado PhD of http://www.growyoungandslim.com - Huntingdon Beach, California
http://www.oxygen.co.uk - aesthetics, spas and anti-ageing therapies in Serbia
For more information and alternative images contact:
ELIXIR
Anna Morris on + 44(0)20 7569 8676 [ ]
CHANGING FACES
Francesca Leadlay, Press Officer Direct Line: + 44(0)20 7391 9276 [ ]
http://www.changingfaces.com
Note to Editors:
About ELIXIR: ELIXIR magazine and http://www.elixirnews.com is an independent source of news and information on health ageing.
About Changing Faces: Changing Faces (http://www.changingfaces.org.uk, http://www.iface.org.uk) is a Registered Charity, No. 1011222, that supports and represents people who have disfigurements to the face or body, whatever the cause. T: 0845 4500. F: 0845 4500 276 http://www.changingfaces.org.uk
The organisation has a team of specialists who offer counselling and a range of practical strategies to children, young people and adults with disfigurements, to enable them to manage public reactions and succeed in every part of their life. It offers a consultancy and training service to health professionals, teachers and employers on best practice in teaching, recruiting or providing customer service for people with disfigurements.
###