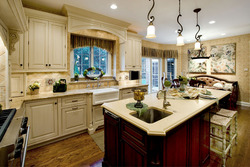 The ICON award honors builders and remodelers who excel in the new construction and remodeling industry
Glen Ellyn, IL (PRWEB) December 11, 2007
Three Chicago-area design firms recently won a 2007 ICON Gold Award: Glen Ellyn Homes, Drury Design Kitchen & Bath Studio and Reddington Designs. Presented by the Northern Illinois Home Builders Association [NIHBA], the three ICON winners in the kitchen category worked together to complete a complicated project in 100 days. Read more about the ICON awards at http://www.nihba.com.
"The ICON award honors builders and remodelers who excel in the new construction and remodeling industry," said Donna Renzi, NIHBA executive vice president. Founded in 1956, NIHBA counts over 450 builder, associate and affiliate members.
The winning design remodeled an outdated suburban home kitchen into a revitalized family living and home entertainment center. Challenges to overcome included: an awkward layout, inadequate storage, outdated appliances, a corner cooktop, small sink, dated design, tired color scheme, worn out cabinetry and an inefficient island on three dysfunctional levels.
Custom kitchen design solutions included:

Significantly enlarged refrigeration and freezer space with twin Sub-Zero units
Preserved and expanded existing pantry into a formal butler's pantry serving center
Relocated desk and integrated technology with a flat-screen fold-down television
Expanded island to seat four and add storage
Created a hearth focal point anchored by a Wolf range
Upsized sink with a large single farmhouse style bowl
Installed Grabill custom kitchen cabinetry throughout, including appliance panels
Added durably elegant efficiency in a mix of finishes and tones
"Congratulations to our peers who also won ICON Awards. NIHBA is raising the standards for high-quality residential remodeling and construction. We enjoyed this collaboration," said Randy Parker, principal, Glen Ellyn Homes and NIHBA member.
About the Award-Winning Custom Kitchen Design Trio
Randy Parker, Principal, Glen Ellyn Homes
Formed in 1991, recognized as one of Chicago's outstanding luxury home builders/renovators
Gail Drury, CMKBD, Drury Design Kitchen & Bath Studio
Founded in 1987, featured on HGTV, 7500 sf. studio, client-focused design through install
Carol Salb, President of Reddington Designs Inc.
Specialists in high-end residential design, located in Chicago's Merchandise Mart
###