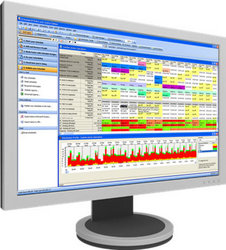 Today's police service needs to deliver flexible working to meet ever changing operational requirements and the Greater Manchester Police is a good example of this
London, UK (PRWEB) December 6, 2007
Intellicate Ltd, a leading provider of employee and workforce scheduling solutions, today announced the successful force wide roll-out of Schedule24 Police and Justice edition by Greater Manchester Police, as part of their drive to standardise cost effective scheduling for their policing operations.
With 8,000 police officers and over 4,000 civilian staff, Greater Manchester Police is one of the largest police forces in England. Intellicate's Schedule24 Police and Justice Edition enable Greater Manchester Police to adopt a structured workflow and develop their operational deployment strategies.
"The force IT and HR departments took a pragmatic approach to deliver a system that could be deployed quickly and used for operational planning," said Greater Manchester Police IT Project Manager, David Small. The project implementation included enhancements to automate searches for witness availability and non-availability for court sessions. "This enabled us to centralise much of the business processes which were fragmented and time consuming," said David Small.
Schedule24 Police and Justice edition was deployed over standard Windows® networks and training was designed and delivered in-house by the HR Systems staff.
"Schedule24 Police and Justice edition is much more than just 'shift scheduling.' Monitoring and tracking abstractions including sickness, leave and training have a direct impact on the operational capacity to respond," said Tim Mills Intellicate's COO and co-founder, who went on to say, "Schedule24 Police and Justice edition integrates all this information into one smooth workflow for improved decision making which helps maximise the operational frontline capability."
Greater Manchester Police posed specific challenges--including operational flexibility of departments, the requirement for long term planning 12 months or longer, fast communication of schedule changes, and universal access by anyone, anywhere, in the organisation to published schedule information. "Today's police service needs to deliver flexible working to meet ever changing operational requirements and the Greater Manchester Police is a good example of this," said Tim Mills.
About Greater Manchester Police
With 8,000 police officers and over 4,000 civilian staff, Greater Manchester Police is one of the largest police forces in England serving over 2.6 million people speaking 40 languages over an area of 500 square miles. It is also responsible for policing services of a large international airport.
About Intellicate
Headquartered in London, United Kingdom, Intellicate is a Microsoft Certified Partner delivering workforce scheduling and team management solutions for small and medium sized enterprises and blue chip organizations worldwide. Intellicate is committed to the highest levels of customer service and support for its Schedule24 product range which provides the workflow needed by business managers to deliver flexible working strategies in today's competitive markets. Intellicate is privately owned and based in London, United Kingdom with partners in Australia and United States and offers Schedule24 software and services worldwide.
Intellicate and Schedule24 are trademarks and/or registered trademarks of Intellicate, Ltd. In the United States and/or other countries. All other trademarks acknowledged.
© Intellicate Ltd. 2007. All rights reserved.
###