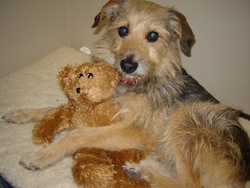 Let's save him, he deserves a chance
Houston, TX (PRWEB) December 6, 2007
Cooper, aka 3-legs, was living on the porch of a rundown abandoned house, eating whatever scraps he could find just one year ago. That's when Jim Burwell's Petiquette, a free lunch of Kentucky Fried Chicken in a trap turned his whole life upside down. Bad luck? Not for Cooper - just an angel in disguise.
There seemed to be many angels watching over Cooper. His old dilapidated neighborhood was being bulldozed to make way for new improved 3 story town homes. Everything familiar was vanishing, including the family he had claimed. They moved away, took his black lab companion with them and left Cooper there abandoned and alone. His neighbors in the new town homes were concerned for the little dog and tried to help him, but no one could catch him, despite his busted back leg. He was just too afraid.
Enter the second angel, Jim Burwell, renowned dog trainer and owner of Jim Burwell's Petiquette, an in-home dog training franchise. The local paper, the Houston Chronicle, knowing of Burwell's expertise and compassion, called Burwell for help. A vet had told the paper that Cooper's case was hopeless. "He is feral, afraid of people and has a broken back leg. Just leave him alone, the outcome won't be pretty" the vet said. But Jim Burwell's response was, "Let's save him, he deserves a chance". That's where Kentucky Fried Chicken comes into play. The chicken was placed in a pet friendly trap and Cooper was just hungry enough to take the bait.
Enter the third angel. Westbury Animal Hospital in Houston, TX donated all of Cooper's medical care for heartworm treatment, vaccinations and including, unfortunately, amputation of the back leg that couldn't be saved. In fact, Cooper was named after the vet who took care of him. "I'm honored," said Jonathan Cooper, Westbury Animal Hospital vet.
Burwell then took Cooper home and began to rehabilitate him using the training philosophy of Jim Burwell's Petiquette. Burwell started working on obedience training with Cooper, leash walking and house training. Sound like a great ending? It is, but it's only part of the ending.
There was one more angel waiting to help Cooper. A thrown away 3 year old black lab named Sammy Burwell. Sammy had also been cast aside. Found under a truck at 7 weeks of age on a hot August day, the Burwells took him in too only to find out he needed major hip and elbow surgery which they got for him. The minute Cooper laid eyes on Sammy; a truer love has never been seen. The gentle black lab giant is adored by Cooper. They sleep together, play together and go on walks together. The gentle giant and the little 3-legged dog that the angels would not give up on are safe, happy and warm. We wish you a very Merry Christmas Cooper Burwell. http://www.chron.com/content/chronicle/special/07/cooper/index.html
About Jim Burwell's Petiquette
Jim Burwell's Petiquette™ offers entrepreneurs and dog owners the benefits of a 20 year proven method of in-home dog training and behavior modification, using positive reinforcement to achieve training goals, and a working partnership with experts like no other. Our goal is to help owners establish peaceful, rewarding, enduring relationships with their dog. In 1988, after building a successful career in commercial banking for more than two decades, Petiquette founder Jim Burwell felt it was time to trade in his expertise in banking to starting a business in barking. Proclaimed by the 4th largest city in the U.S. as "The Houston Dog Whisperer," by the Houston Chronicle, Burwell has become one of the nations most established and thriving dog trainers. His in-home dog training process, The Burwell Method, applies to canines of virtually all breeds and their owners. Franchising since 2006, Petiquette currently operates one company owned unit and two franchise units. Company plans call for 110 locations nationwide in 2011. For more information on Petiquette in-home training or for more information on Jim Burwell's Petiquette Franchise opportunity please visit http://www.petiquettedog.com or call 1-866-336-9300
###