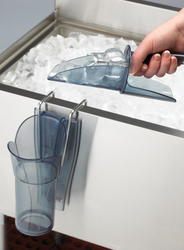 Ice is now considered a food item
Elkhorn, Wisc. (PRWEB) December 12, 2007
How safe is the ice served at http://www.sanjamar.com/pls/enetrixp/%21stmenu_template.main?complex_id_in=1905670.1915380..1915380.cat [restaurants] and bars? According to a recent study, not very. San Jamar, a leading international supplier of http://www.sanjamar.com/pls/enetrixp/%21stmenu_template.main?complex_id_in=1905670.1915380..1915380.cat [food safety] tools and food-service dispensers, has introduced the first ice safety scoop and protection system that keeps ice safe at every point between the ice machine and serving ice to patrons.
A recent study conducted by the Chicago Sun-Times found more than one out of every five samples of ice cubes contained high levels of bacteria at 49 fast-food and casual dining restaurants and hotel bars in the Chicago-area.
San Jamar's safe ice handling tools work together to protect against the dangerous cross-contamination that can occur while carrying ice from the ice machine to the glasses served to patrons.
"Ice is now considered a food item," says Jayson Pearl, Director of Marketing --Foodservice at San Jamar. "Restaurant and bar owners need to think about every point during ice transport when ice can become contaminated. The recent study found fecal bacteria in the ice that was linked to contamination from unclean hands. Processes and tools that help improve effective hand washing and prevent dangerous hand contamination with ice can truly make a difference in preventing this type of food safety risk for customers."
San Jamar has a family of safe ice handling tools that work together to protect against dangerous cross-contamination. The Saf-T-Scoop™ is a unique scoop with a "germ guard" that keeps hands from coming into any contact with ice. The Guardian System™ is a container for the ice scoop that is conveniently stored next to the ice machine. The Saf-T-Ice® Tote, which comes in two sizes, is designed for easy handling and keeping hands from touching any unsanitary surface when transporting the ice container. The Saf-T-Ice® Bottle Guardian helps bartenders keep wine bottles on ice without actually touching the ice.
According to Pearl, owners of restaurants and bars should look for the following features when selecting ice-handling tools:

Ice scoops with integrated hand guards that prevent hands from coming in contact with ice --
at the ice machine and at the bar/beverage ice bins.

Ice totes that have grab points to keep hands from touching contaminated areas.
Ice handling tools that are dishwasher safe and are small enough to fit in the dishwasher.
Ice scoops and totes constructed with a durable, polycarbonate, as opposed to metal. Metal
scoops are harder to clean and can harbor dangerous bacteria.

An ice scoop with a narrow chute to direct ice into the tote and avoid excessive spillage.
"An effective hand washing program is also critical to preventing ice contamination from unclean hands," adds Pearl. San Jamar has recently introduced a full line of Universal touchless towel dispensers that eliminate hand contamination after the handwashing process.
Another recent hand washing innovation is the Kleen-Brush™ System, which keeps the fingernail brush sanitary and makes it easier for food-service workers to clean the areas of the hand that are the hardest to clean and harbor the most bacteria -- fingertips and fingernails.
San Jamar has two online resource centers dedicated to safe ice handling and effective
handwashing with useful information, products and solutions to help prevent the risk of cross-contamination, improve productivity and project a clean, safe food image. Visit http://www.sanjamar.com/safeice, http://www.sanjamar.com/cleanhands and http://www.sanjamar.com/touchlessuniversal.
For more information on San Jamar's food safety tools and food service dispensers for restaurants and bars, visit http://www.sanjamar.com.
ABOUT SAN jAMAR
San Jamar is the leading international supplier of food safety tools, food-service dispensers and washroom dispensers. The company markets a wide range of quality products for global Foodservice and Jan San markets. San Jamar's mission is to consistently offer smart solutions for food safety, hospitality and sanitary washroom environments. The company is headquartered in Elkhorn, Wis., with a European division in Belgium (San Jamar Europe), and a division in Mexico (San Jamar Mexico). For more information, please call 1-800-248-9826 or e-mail inquiries to sanjamar @ sanjamar.com.
# # #