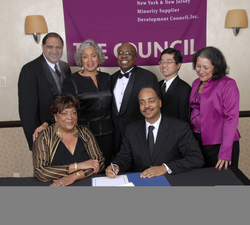 Supplier of the Year Awards
New York, NY (PRWEB) December 7, 2007
The New York & New Jersey Minority Supplier Development Council's 2007 Partnership Awards not only celebrated commerce between metro area minority businesses and top Fortune 500 Corporations and institutions, but featured the signing of a major agreement between The Council and The State of New York that permits Council-certified minority businesses to bid on State contracts.
At the Partnership Awards Gala at the New York Marriott Marquis held in November, PepsiCo was saluted by The Council's certified minority business owners as "National Corporation of the Year Award." New Jersey-based Novartis Pharmaceuticals was honored with the "Regional Corporation of the Year Award." Ann Mullen, director of Supplier Diversity, Johnson & Johnson was presented with the "Coordinator of the Year Award."
The Partnership Awards Gala was also the site where a major agreement between The Council and The State of New York was formalized. A Memo Of Understanding (MOU) was officially signed between Lynda Ireland, president of The Council, and Michael Jones-Bey, executive
director, New York State Division of Minority and Women-Owned Business Development. The MOU permits Council-certified minority businesses the ability to directly bid on New York State contracts.
"The Council would like to thank Michael Jones-Bey, Lt. Governor David Paterson, and Governor Eliot Spitzer for being at the forefront in advocating business opportunities for New York State's minorities," stated Lynda Ireland, president and CEO of The Council. "According to the recent census on minority business ownership, New York York City has the largest number of African American, Asian, and Hispanic owned businesses in the United States. In fact, African American-owned businesses grew a massive 45 percent nationwide. Our Council is honored to be able to aide metro area minority businesses with opportunities to develop and grow companies."
The "Supplier of the Year Awards" awards were presented to three exceptional Council-certified minority businesses. They have achieved revenues ranging from $10 million dollars to over $2 billion dollars. The Class 2 Award was presented to Anisa Balwani, owner and president of Raj Consultants, IT consulting and software development. The Class 3 Award was presented to Daniel Sung Park, founder and CEO of eclaro International Inc., a business and technology consulting firm. He is also chairman of The Council's Minority Business Enterprise Input Committee. The Class 4 Award was presented to Thai Lee, CEO of Software House International (SHI) and also the first Korean-American woman to enter Harvard Business School. SHI, a global provider for Computer IT Products and Services, has been named by Business Week as one of the top 10 privately held Information Technology companies in America and has over $2 billion in net sales and transactions.
The Partnership Awards program featured Lynda Ireland; Harriett Michel, president and CEO, National Minority Supplier Development Council; Hilton O. Smith, corporate vice president, Turner Construction Company, and J. Frederick Canady, vice president of PepsiCo's Supplier Diversity program and the chairperson of The Council. Jacqueline L. Rosa, executive director at Morgan Stanley, was the corporate co-chair and Courtney D. Dupree, founder and CEO, GDC Acquisitions, was the MBE co-chair. Jodi Applegate and Ron Corning of WNYW-TV's "Good Day, New York" co-hosted the elegant gala evening.
The Council certifies minority-owned businesses in order for the business owners to be eligible for corporate and government contracts. Certification encompasses a thorough financial and administration investigation the business. For more information on The New York & New Jersey Minority Supplier Development Council, please call 212-502-5663 or visit the website at http://www.nynjmsdc.org
ABOUT THE COUNCIL:
The New York & New Jersey Minority Supplier Development Council, Inc. identifies minority suppliers; certifies bona-fide minority business enterprises; and facilitates procurement opportunities between Corporate America and Council-certified minority suppliers. That supplier group includes Asian Indian-American, Asian Pacific-American, African-American, Hispanic- American and Native-American businesses located throughout downstate New York (Albany and below) and Northern and Central New Jersey including Trenton. The Council's corporate membership consists of Fortune 500 corporations, government agencies and educational institutions.
IN PHOTO:
New York State Signs Agreement with NY & NJ Minority Supplier Development Council
(L-R) Lynda Ireland, president, New York & New Jersey Minority Supplier Development Council; Michael Jones Bey, director, Division of Minority & Women's Business Development, New York State Department of Economic Development; Hilton O. Smith, senior vice president, Turner Construction Company and Council Board Member; Harriet Michel, president, National Minority Supplier Development Council; Fred Canady, vice president, Supplier Diversity, PepsiCo and Council chairman; Daniel Sung Park, president, eclaro International and chairman, The Council's Minority Business Enterprise Input Committee; Lorraine Kelsey, executive vice president, Interracial Council for Business Opportunity
PHOTO CREDITS: E. Lee White
###