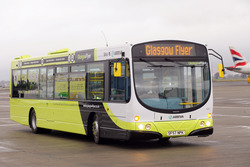 The Moovbox M Series mobile broadband gateway is helping transport operators like Arriva meet the demands of modern travelers
Sittingbourne, UK (PRWEB) December 11, 2007
Moovera Networks, a leading developer of fixed and mobile wireless access systems, today announced that Arriva Scotland West has chosen technology from Moovera to provide broadband Internet access on the brand new Glasgow Flyer shuttle service. The fleet of eleven low-emission luxury buses, recently commissioned at a cost of over £1.5m, operates between Glasgow city centre and Glasgow Airport under a contract awarded to Arriva Scotland West by the British Airport Authority (BAA). Arriva Scotland West has equipped the vehicles with the Moovbox M100 mobile broadband gateway from Moovera, which provides Wi-Fi Internet access to passengers at broadband speeds up to 1.4Mbps throughout the journey.
Ralph Roberts, director and general manager at Arriva Scotland West, said: "Providing a premium travel experience to our customers is high on Arriva's agenda. These eleven new high-specification, environmentally friendly vehicles launched on the Glasgow Flyer airport service will bring new levels of comfort and service to airport staff, visitors and the people of Glasgow. Using leading edge technology from Moovera, the free Wi-Fi access will help business people and other passengers stay in touch via the Internet while on the move, and make the most of their journey time to and from the airport."
The Glasgow Flyer operates up to a ten-minute frequency, 24 hours a day, seven days a week. Its direct route via the M8 motorway means the journey time to and from Glasgow Airport is between fifteen and twenty minutes making the Glasgow Flyer the fastest bus service between Glasgow Airport and Glasgow city centre. The Moovbox M100 delivers Wi-Fi Internet service to passengers in conjunction with the next-generation HSDPA (High Speed Download Packet Access) mobile broadband network from Vodafone UK. Arriva Scotland West staff can monitor the exact position of the fleet's eleven vehicles in real time and assess the usage of the Wi-Fi service via MoovManage, Moovera's secure online management service.
"The Moovbox M Series mobile broadband gateway is helping transport operators like Arriva meet the demands of modern travelers," said Jim Baker, CEO and founder of Moovera Networks. "The new Glasgow Flyer service will be heavily used by business passengers who value the ability to get online not only at the airport but also while traveling to and from it. With an ever-increasing number of Wi-Fi enabled devices such as laptops, PDAs and mobile phones available to passengers, Internet access is becoming a mainstream requirement for forward-thinking operators such as Arriva."
The Moovbox mobile gateway is a rugged Wi-Fi access point and cellular router, offering multiple wide area network (WAN) radios for automatic failover between carriers, and features built-in GPS for real-time positioning. Moovbox products also offer secure Ethernet for IP-CCTV, DVR and telematics equipment with remote in-bound access for device control. The multi-user MoovManage service provides real-time vehicle tracking, schedule adherence monitoring, remote device configuration, and Wi-Fi portal and usage statistics. More information is available online at http://www.moovera.com.
About Moovera Networks
Based in the United Kingdom, Moovera Networks is a privately-held manufacturer of industrial-grade fixed, mobile and portable wireless communications products that bridge Wi-Fi access with carrier-class networks including 3G UMTS/HSPA, WiMAX, TD-CDMA, HC-SDMA and FlashOFDM. Applications include commercial hotspots, city-wide municipal and in-vehicle wireless, public safety, construction, events, and secure corporate communications.
About Arriva
Arriva Scotland West, a division of Arriva plc, and its predecessors have served the people of Renfrewshire since 1928. ASW are proud of this long association and are focused on delivering improved service to meet the changing needs of our customers. Each year over 17 million customer journeys are made on ASW fleet of 195 buses that are looked after by more than 400 employees. Parent company Arriva plc is one of the largest transport services organizations in Europe, employing more than 37,000 people and delivering more than one billion passenger journeys across nine European countries every year.
###