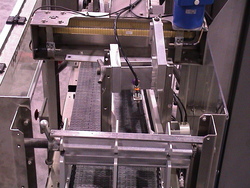 Portland, CT (PRWEB) December 10, 2007
Standard-Knapp, a worldwide leader in the manufacture of innovative packaging machinery, introduces its advanced Bottle Laner for balanced, jam-free bottle packing lanes. Standard-Knapp's Bottle Laner is engineered to handle a variety of bottles, as well as non-round and unstable containers, making it ideal for packing applications in the food and beverage, household chemical, and personal care industries.
Standard-Knapp's Bottle Laner is designed to distribute bottles from a single-file line to multiple lanes, but can also redistribute two lanes into three or more for more efficient bottle packing. Powered by a servo drive and timing belt, the Bottle Laner actuates payout of a specific quantity of containers to the downstream lanes, ensuring the lines remain steadily supplied and balanced.
A smart sensor counts each bottle or container that passes through the Bottle Laner to guarantee line balance and prevent damaging jams, while ensuring bottle packing is successful.
The Bottle Laner can be integrated with a case packer or remain free-standing. Featuring quick and easy changeover in a matter of minutes by utilizing a user-friendly touch screen, Standard-Knapp's Bottle Laner is a robust and virtually maintenance-free machine.
Standard-Knapp offers 24 hour customer service assistance, as well as extensive machine training programs. In addition to state-of-the art bottle packing machinery, Standard-Knapp offers case packing, tray packing and shrink wrapping solutions. For more information on Standard-Knapp's products, visit http://www.standard-knapp.com , call 860-342-1100 or email.
###