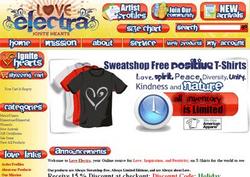 San Antonio, TX (PRWEB) December 10, 2007
Love Electra admires the good works of Oprah Winfrey and so announces a World Love and Forgiveness Day initiative marked with a token of appreciation. The organization whose mission it is to further the power of love in the world is offering a case of energy-cleansed T-shirts embellished with quotes on kindness. With Ms. Winfrey's permission, these will be shipped to Oprah's Leadership Academy in South Africa. Love Electra advances the message of unity and caring to the world with its T-shirts, through social networking channels, and now with an international day of love and forgiveness.
Owner Kevin M. Vidal explains: "We believe that many of us long for harmony with each other, but often do not act on this urge. Establishing a World Love & Forgiveness Day will give ex-lovers, bosses, co-workers, family members, strangers on the street, and maybe even world leaders, a reason to say, 'Let's try to get along' or 'You're appreciated.' Try to imagine the impact on human relations this would have after having celebrated this day around the globe year after year."
In addition to the new holiday and the offer of appreciation made to Oprah's Leadership Academy, efforts by LoveElectra.com both to "increase the peace" and to bring Oprah's positive energy to this campaign have been extended toy a 20% discount. Customers who purchase T-shirts can enter the discount code "Oprah" at check-out.
"Love Electra's gesture to Oprah, along with our 'Oprah' discount has been released into the universe as an appreciation for the beautiful things that she's done. We affirm that the universe will return Oprah back to us to help spread the word about the first annual World Love and Forgiveness Day beginning in 2008 and for every year that follows," says Vidal.
The Feng Shui energy-cleansed, sweatshop-free T-shirts are designed to attract attention to their love-inspired quotes on kindness. In late November of this year, LoveElectra.com released a new line of American Apparel T-shirts adorned with crystals and eye-catching graphics created by international artists.
For more information about the World Day of Love and Forgiveness or Love Electra apparel, contact http://www.loveelectra.com.
LoveElectra.com T-shirts displaying quotes on kindness to self, others, nature, and spirit are complemented by an e-community based on social networking tools like MySpace, FaceBook, YouTube, and various blogs. Founder Kevin M. Vidal, a systems analyst, poet, songwriter, singer, and now entrepreneur and community builder, has been fostering the LoveElectra.com website and community since the tragedy of Hurricane Katrina inspired a focused effort to advance the message of love in the world.
###