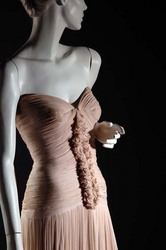 (Vocus) December 7, 2007
She revealed little about her life, either professional or personal. Even her death in 1993 was hidden from the world by her only child. This aura of secrecy earned the great Parisian couturiere Madame Alix Grès the nickname "sphinx of fashion," but she was also regarded as the last icon of the golden age of couture. From February 2 through April 19, 2008, The Museum at the Fashion Institute of Technology (FIT) will illuminate little-known aspects of her work in the first exhibition to analyze her methods of construction and categorize her creations stylistically. More than 70 of her masterpieces will be on display in Madame Grès: Sphinx of Fashion.
During a long career that began in the early 1930s and continued until 1988, Madame Grès created gowns of exquisite beauty and dressed many of the most stylish women of the 20th century. She worked alone to craft by hand the initial designs of all her creations, an unusual feat for designers.
Though many fashion specialists recognize her most famous design, the "Grecian-inspired gown," few are aware of the full extent of her talents. The array of garments in the exhibition illustrate her key stylistic elements – classically inspired pleated gowns made of matte silk jersey; the use of simple, geometric designs based on ethnic costumes; and the three-dimensional sculptural quality for which most of her work was noted.
Garments on display, such as a gray and yellow plaid cape coat from the 1950s that belonged to Doris Duke, a one-piece silk crepe pajama owned by Diana Vreeland, and a black silk faille "Turandot" evening dress are examples of the new style of clothing introduced by a woman who remained a mystery to the end of her life.
The exhibition is organized by Patricia Mears, deputy director of The Museum at FIT. It will be accompanied by a Yale University Press book, Madame Grès: Sphinx of Fashion, which includes more than 100 photographs of garments from museum and private collections, and from leading magazines.
The exhibition is made possible in part through the generous support of The Coby Foundation, Ltd., and Yagi Tsusho, the parent company of Madame Grès.
For further press information, contact the Office of Communications and External Relations at (212) 217-4700. Visuals are available upon request.
The Museum at FIT is located on the southwest corner of Seventh Avenue at 27th Street. Exhibition hours are Tuesday through Friday, noon to 8 pm; Saturday, 10 am to 5pm; closed Sundays, Mondays, and legal holidays. Admission is free. For museum information call (212) 217-4558 or go to: http://www.fitnyc.edu/museum.
###