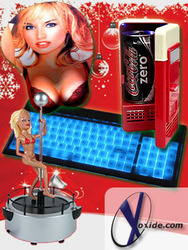 Malvern, Pa (PRWEB) December 10, 2007
Xoxide Inc, a privately held online computer products retailer from the Philadelphia area, is offering some wildly unique Holiday Gifts for the tech-savvy consumer this Season.
For those individuals with a tech nerd or computer geek on their shopping list, this particular season tends to be exceedingly difficult when it comes to choosing the perfect gift. Thankfully, this particular online retailer is here to offer up some help. Providing a little something for every web-happy friend or family member on your list, the great gifts offered from Xoxide.com range from the incredibly useful to the wonderfully strange.
As a leader in the computer modification and gaming industry, Xoxide has long provided the most cutting edge products for their online customers. However, what some shoppers might not know is that this particular online retail store also offers a great assortment of unconventional tech products that are straight-up geeky, sometimes silly, and most importantly, a ton of fun.
Considering that it's nearly impossible to find anyone a Wii this holiday season, making sure you get that special geek of yours something to smile about is a definite priority.
This season, customers will find a unique assortment of must-have USB products at Xoxide.com that will plug right into any MAC or PC. These products range from such useful items as a USB Paper Shredder, a pair of USB Warming Gloves, to a Plug-In USB Mini-Fridge that's so Mini it only holds one soda can. The list also includes a few other wonderfully bizarre oddities, such as a USB Dancing Pole Dancer that grinds to your MP3 player, to a portable Flash Drive that resembles a cute little beagle (one that appears to have, um, really taken a liking to your hard drive).
Other Xoxide gift ideas to keep your computer geek occupied include the Buxom Beauties Ergonomic Mouse Pad (you can quickly guess which part of the Buxom Beauty provides the wrist comfort) and the Thermaltake X-Ray, a cigarette lighter and drink holder that can be installed directly into your computer.
For those late-night web-heads, Xoxide offers a caffeinated soap to keep the gamer on your list extra alert while shooting sub-human space mutants online (providing their family members or roommates makes sure they take an actual bath occasionally), as well as an illuminated keyboard for those late-night web heads (even though you may not want to know what they're doing online during those late hours…especially with that USB Poll Dancer and Buxom Beauties Mouse Pad around).
So to help ensure your laptop junkie stays jolly this season, here are a few gift ideas from Xoxide that are sure to fit any holiday budget.
Xoxide Presents: Great Gift Ideas
###