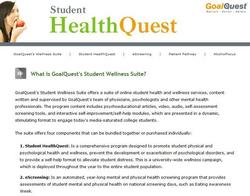 I knew students had utilized the tool, because I was flooded with appointments and then reports of how they scored
New York, New York (PRWEB) December 10, 2007
GoalQuest, part of the Enrollment and Retention Services Divisions of EducationDynamics, today announced the release of its Student Wellness Suite of products, a collection of web-based programs designed to provide colleges with proactive and innovative resources to conduct online mental health and wellness screenings, offer self-help and wellness education and monitor student health concerns and issues across all class years. This suite, which includes Student HealthQuest, Patient Pathway, AlcoholFocus and eScreening, immerses students in engaging content through interactive self-tests, digital video, psychoeducational content, self-exploration activities and social networking tools.
"For the first time, we are able to reach students campus-wide with wellness information, instead of the traditional approach of waiting for students to seek out counseling when a crisis occurs," said Dr. Jamie Smith, director of clinical and assessment programs at EducationDynamics. "Research tells us that only the minority of distressed students will seek counseling, and we need new tools to reach out to the wider population."
More than 40 schools have participated in online depression and alcohol eScreening, which EducationDynamics began offering in October. "I knew students had utilized the tool, because I was flooded with appointments and then reports of how they scored," noted Lynne Martin, LPC, MLAP, head of counseling at the University of North Alabama, after students at her institution had participated in an online depression screening in October. "I was aware of the extent of the problems in the student body, but the use of the screening tool and the resultant statistics provided a much needed step toward documenting proof specific to students' needs. This type of documentation will aid me in program planning, and our administrators and board members as they prioritize funding for and execution of the university's long term goals for student health and wellness services."
EducationDynamics' Student Wellness Suite is believed to be the only set of comprehensive web-based student health services to offer customized programs that meet the specific needs of each institution through a wide array of features and functionality. Schools select content from a core library of articles reviewed by EducationDynamics' panel of psychologists, physicians, clinical researchers, and other health professionals; sites are then developed with each school's goals in mind. The programs offer a tailored e-messaging campaign that ushers students into the psychoeducational content, self-improvement modules and e-community forums. A reporting dashboard provides administrators with early warning alerts to connect them to students in need.
All of the content and tools within the Student Wellness Suite are written, designed, hosted and deployed by EducationDynamics, thus requiring minimal labor on the part of administrative and technology staff. Core content includes nine modules about relationships, substances, moods, health, stress, eating and body issues, self-harm, sexual health and coping with trauma. The program also provides students with access to clinical specialists who can answer questions and offer expert customer assistance. An annual research snapshot details usage, popularity of content within the program and the results of associated assessments.
The Student Wellness Suite includes four products which can be purchased separately, packaged in bundles or in conjunction with the FYRe™ student retention program.
Student HealthQuest - a university-wide wellness campaign, deployed throughout the year to the entire student population, designed to promote student physical and psychological health and wellness, prevent the development or exacerbation of psychological or physical health concerns and to provide a self-help format to alleviate student distress.
Patient Pathway - a structured online self-help program for distressed students, which can be used on their own or as a therapy companion for current patients of the school's counseling center. A series of steps provide topic-specific education, symptom measurement, homework and interactive self-help activities to students. Therapists can upload patients and track patient progress through a secure live reporting center.
AlcoholFocus - an engaging, personalized alcohol abuse education and prevention program oriented toward all incoming students as a required part of a first-year experience course or an elective student health resource designed to educate college students about the physical, emotional and social consequences of excessive drinking using a non-judgmental, harm-reduction approach.
eScreening - an automated, year-long mental and physical health screening program that provides assessments of student mental and physical health on mental health screening days, such as depression screening day.
For more information on EducationDynamics' health and wellness products and services please visit http://www.goalquest.com/healthquest or contact Tracy Howe at 201.377.3318 or tracy@goalquest.com.
About EducationDynamics
EducationDynamics, a portfolio company of Halyard Capital, is a leading interactive marketing and information services company focused on helping higher education institutions find, enroll and retain students. Through some of the most visible education websites, including EarnMyDegree.com, eLearners.com, GradSchools.com, and StudyAbroad.com, as well as its Internet marketing services team, EducationDynamics is one of the leading providers of qualified leads for colleges and universities. The company offers a full suite of web-based products and services to manage a school's relationship with students across their entire life cycle from inquiry through enrollment to retention. For more information on EducationDynamics, please visit http://www.EducationDynamics.com.
###