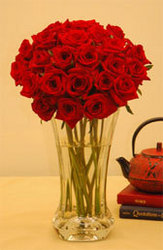 We're proud that so many of people have come to trust Island Rose and Flower Circle to keep in touch with friends and loved ones
Makati, Metro Manila (PRWEB) December 11, 2007
Not so long ago, visiting a flower farm to buy flowers was virtually non-existent. A simple bouquet of roses had to go through layers upon layers of middlemen and florists before you could buy them.
Not anymore.
Nowadays, Philippine and Hong Kong residents have much reason to be romantic. Whenever, they are looking for a unique gift, they can turn to Philippine Cut Flower Corporation, one of Asia's most experienced flower growers.
Through http://www.islandrose.net (for Philippine Flower Delivery) and http://www.flowercircle.com (for Hong Kong Flower Delivery), customers can pick flowers directly from the farm and ship them straight to their recipient's doorstep.
When a customer visits these websites, they can pick from hundreds of varieties and combinations from the freshest harvest for the day. Upon ordering, the flowers are meticulously arranged and packaged by professional florists and delivered via first class courier.
Clients may also choose to take a tour of their farm facilities as well as know more about flowers through these websites. They contain a lot of interesting information about flowers, how to enjoy them, as well as in depth information about the company.
According to Dustin Andaya, founder of the Internet service, Island Rose has been shipping flowers straight to their customers for more than 6 years in the Philippines. Recently, they launched flowercircle.com to cater to Hong Kong flower deliveries. He is looking to expand their flower delivery operations throughout Asia in the coming years.
He adds that, "There are many flower delivery services out there but there are very few who offer our straight from the farm freshness." True enough, since Island Rose began, it has become the largest flower delivery network in the Philippines shipping more than half a million stems annually. "We're proud that so many of people have come to trust Island Rose and Flower Circle to keep in touch with friends and loved ones," says Dustin.
"According to our surveys, most of our clients send flowers as greetings or gifts because it shows sincerity," emphasizes Dustin. Indeed, in many places around the world, flowers are regarded as the perfect gift -- and when it comes to flowers, fresh is always best.
Philippine Cut Flower Corporation is a multi awarded company that specializes in growing French and Dutch variety flowers in tropical conditions. In the year 2000, Island Rose revolutionized the Asian farming industry by offering its flowers over the Internet. Through islandrose.net in the Philippines and flowercircle.com in Hong Kong, clients can order flowers straight from the farm allowing them to enjoy the freshest flowers at the fairest prices.
# # #