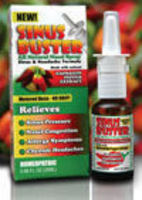 Within the next decade, I think the FDA will be forced to require glass containers for all OTC nasal sprays, oral suspensions and inhalers. The majority of cough medicine manufacturers already use glass to package their products and SiCap Industries is committed to leading the industry toward safer packaging for the sake of all consumers
Albany, NY (PRWEB) December 7, 2007
When SiCap Industries launched Sinus Buster, the world's first natural capsaicin nasal spray in 2003, the product line featured plastic bottles commonly used in most popular over the counter nasal sprays. In 2005, the company switched to glass bottles due to concerns over the potential dangers of toxic leaching from plastic containers. The company's founder believes it was a necessary move to ensure consumer safety and the integrity of the natural medicine industry. As recent studies show toxic leaching to be a real problem, SiCap is announcing an immediate switch to glass bottles for their oral products; Pepper Boost and Pepper Slim.
"We began researching the dangers of plastic containers just after the first stories about toxic baby bottles and water bottles started to surface on the web. Long before the media began focusing on the dangers of plastic baby bottles and toxic leaching, we found credible evidence for concern and that concern translates to over the counter medications. That's when we made the decision to move to glass bottles for the majority of our Sinus Buster products. Our only Sinus Buster product still packaged in plastic is our original squeeze bottle because there are no squeeze bottles available in glass and some consumers demand it. I believe the media is missing an even bigger story than baby bottles and water bottles here. Over one hundred million Americans use some type of over the counter medication regularly, and the vast majority of those products are packaged in plastic containers," says Wayne Perry.
The move to glass bottles was a tough decision for SiCap's management team because glass increases costs and reduces profits. While plastic bottles are plentiful and cheap, glass bottles require special manufacturing which adds up to extra costs. Glass bottles also add significant weight to the product thus increasing shipping costs. But as research continues to expose plastic bottles as leaching carcinogenic chemicals into liquid suspensions, it seems SiCap Industries was ahead of the curve. According to Perry, plastic bottles containing nasal sprays and other over the counter medicines pose a larger threat to public health than any other consumer products.
"Obviously as a corporation we care about profits, but not at the expense of consumer safety. Plastic bottles have a place in consumer products, but not in products such as baby bottles, eye drops and nasal sprays. When you're dealing with medicines, you're dealing with products that sit in the bottles for months which can promote leaching. When you add natural oils or manmade chemicals such as Oxymetazoline and Propylene Glycol, you're eating away at the protective shell of the plastic container eventually leading to chemical leaching," adds Perry.
Perry claims the potential leaching problem with nasal sprays in particular needs to be addressed because of the drug delivery mechanism. Intranasal medications can permeate through the Blood-Brain barrier delivering medicine directly into the bloodstream and the central nervous system. This means that even the smallest amounts of toxic chemicals can have an enormous impact on the human body when ingested through the nose.
"The chemicals used to manufacture plastics are extremely toxic, but the finished product creates a barrier rendering those chemicals inactive. When you store liquid suspensions in plastic containers, or when you heat or freeze them the chemical composition changes and the toxic chemicals are released into whatever product they contain. So if you have a liquid suspension that sits for months in a plastic bottle the leaching process is inevitable. That's why we use glass bottles for the majority of our products. We're not willing to take a chance with consumer safety just to cut a bigger profit. It's all about quality and effectiveness with us. Besides, plastic defeats the purpose of natural products in the first place," says Perry.
The Product Quality Research Institute (PQRI), a collaboration of chemists and toxicologists has developed safety thresholds for leachables and extractables in oral, inhalalation and intranasal drug products. The group made up of scientists from the FDA, pharmaceutical companies and universities backs up SiCap's concerns about plastic leaching into medicinal products. The PQRI has set specific guidelines for thresholds of chemical leaching from plastic containers in an attempt to strengthen the safety of OTC medications for the consumer.
As modern research continues to expose the dangers of toxic plastic leaching, SiCap's president believes the FDA will eventually require all liquid medications to be packaged in glass containers.
"Within the next decade, I think the FDA will be forced to require glass containers for all OTC nasal sprays, oral suspensions and inhalers. The majority of cough medicine manufacturers already use glass to package their products and SiCap Industries is committed to leading the industry toward safer packaging for the sake of all consumers," adds Perry.
###