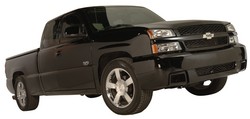 Pick ups used to be pretty much exclusively for business or trade, so the only insurance available was for business use
(Vocus) December 7, 2007
Getting your pick up truck insured can be a bit of a business, especially if you only want cover for personal or pleasure driving (rather than for business use). Now Adrian Flux Insurance has expanded the company's specialist pick up scheme to allow social, domestic and pleasure cover only. And if at a later date you need to extend cover for business use, you can.
"Pick ups used to be pretty much exclusively for business or trade, so the only insurance available was for business use," explains Julie Carter of Flux's commercial vehicle division. "But with the upmarket, fun models that have come over in recent years, lots of people have used them just for pleasure. Business insurance often costs more than social, domestic and pleasure, so owners have had to pay extra for cover they didn't need.
"Our new scheme sorts out this anomaly, so pick up owners can get cheaper, 'pleasure-only' insurance without any problems, both for comprehensive and for third party, fire & theft (TPF&T) policies."
The savings can be significant, even for the cheaper TPF&T policies. For example, a pick up costing around £236 to insure for business use would cost around £206 for social, domestic and pleasure use under the Flux scheme - a saving of well over 10%. (Both are examples are for TPF&T).
Flux has made its pick up insurance scheme as flexible as possible: as well as the 'pleasure-only' option, the company offers cover for big six- or seven-seater models and will insure American or grey imports. Flux is also one of the few companies that will insure modified pick ups and vans.
For more information contact the Adrian Flux quote line on (08700) 764841, email the company at quotes@adrianflux.co.uk, or see the Flux homepage on http://www.adrianflux.co.uk.
PRESS ENQUIRIES:
Toni Turner or Alison Haynes at The Publicity Works: (01263) 761000
Julie Carter at Adrian Flux Insurance: (08700) 764841
Photographs available.
Separations charge enquiries: Offers are only accepted by fax on 01263 761009. DO NOT PHONE.
All offers are considered. We will call you if the answer is 'yes'. Otherwise the answer is, regrettably, 'No'.
Notes for editors
Flux's top five pick ups for pleasure
According to Flux's data, the UK's top five pick up trucks used for pleasure-only driving are:
1. Mitsubishi L200
2. Toyota Hilux
3. Ford Ranger
4. Dodge Ram.
5. Ford Transit (not 'standard' vans, but rather modified versions, converted to pick ups).
###