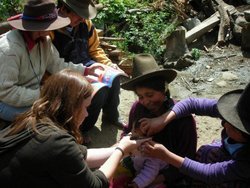 I intend to study applied anthropology (concentrating in nutrition and medicine) at the doctorate level following my undergraduate education, so this field school was the first step of many towards that goal
Indiana, PA (PRWEB) December 14, 2007
Megan Bond, a senior applied anthropology major at Indiana University of Pennsylvania's Robert E Cook Honors College journeyed to Carhuaz, Peru. Megan participated in the Action Research in the Andes Program under the supervision of applied medical anthropologist Dr. Patricia Hammer, Ph.D. The program consisted of 20 students, from around the globe such as the United States, Canada, Great Britain, Sweden and Norway. The group stayed in an ecological ranch made of natural materials. "Twenty people with the same interest living together was amazing," said Megan as she reflected on her summer in the Andes.
In preparation for this course, Bond spent several weeks earlier that same summer in Valladolid, Spain, studying the Spanish language. Her time in Carhuaz, was spent conducting field research regarding the revitalization of native food crops. Megan also took classes in ethnographic research methods, Spanish and Quechua (which is an indigenous language from the Inca.) "I wanted the opportunity to do a field school and work under an applied medical anthropologist before I graduated, so this program fulfills both of those requirements," she said.
Bond's days in Carhuaz began very early. "We woke up with the roosters and went to do fieldwork until lunch," she said. "Then we either took classes or did more fieldwork until dinner." Bond's fieldwork involved working toward the revitalization of local field crops in Carhuaz; a very rural area in Peru. Every day she visited with natives in their adobe homes to learn about their gardens, what plants they grew in them and how they cared for the crops. Bond interacted with people of all ages while she was learning about their culture and how they grow crops in this region.
Bonds most treasured memory of Peru was of a family she spent three days with. She was trying to learn about their efforts to revitalize their potato crop. During that time, the family asked her to be the "madrina" (godmother) to their one-year-old daughter Erika. "It wasn't really a religious thing for them," Bond explained. "I gave the girl her first haircut and they cooked me a dinner. I intend to keep in touch with them."
Bond hopes to use what she learned in Peru to look more in depth at how to apply her research to future crops. She intends to go to graduate school and someday hopes to return to Peru or another similar country to continue her fieldwork. In the more immediate future, she will be presenting her research at the Society for Applied Anthropology annual meeting in Memphis, Tennessee this March. She is currently continuing her studies in anthropology at IUP (http://www.iup.edu/anthropology ), preparing for graduate school and working Archeology Services on campus. Bond's participation in these programs was made possible through an award she received from the Robert E Cook Honors College Enhancement Fund. The fund was created by Robert Cook to make it possible for students like Megan to participate in these types of educational opportunities.
"I intend to study applied anthropology (concentrating in nutrition and medicine) at the doctorate level following my undergraduate education, so this field school was the first step of many towards that goal," she said. "I felt that I was not simply interested in anthropology, but I actually was meant to be an anthropologist."
Check out Megan's Travel Blog.
###