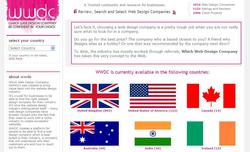 London, UK (PRWEB) December 10, 2007
Launched early in 2007, initially for the UK market, WWDC now has over 1000 web design companies registered. Recently we opened up the service to businesses in the US, Canada, Australia, Ireland and India. Each has their own separate sub-site.
There are thousands of web design directories that provide a listing service for web design companies. A Google search for 'website design company directory' shows over 184,000,000 results from pages worldwide. Most directories provide no value-added functionalities for web design members or users. How do such directories help a business looking for a web design company? The simple answer is they don't!
At Which Web Design Company a business can search and find web design which matches their particular criteria - whether that's price, location or type of website required. They can narrow down their choice by reading ratings and reviews from previous clients and can contact the web design company directly.
Which Web Design Company was created to bring value back into the web design industry. It's crucial for businesses to be able to find the right web design company for their industry. It's time the web design industry distinguished itself - many web design companies have already hocked onto the fact that they need to work with a niche industry to create successful websites. Web designing is more than just putting together pages to form a website; it's about creating a marketing tool. And to do this, it's an absolute must to understand the company's industry, understand the business's objectives - because the whole point in building their website is to achieve these targets through the Internet. WWDC creates a platform for people to be able to find a website design company which is best suited to their industry, a company that will understand who their customers are and how to reach out to them.
Our aim is to expand this service to every country around the world and have the majority of web design companies registered with us, so that when a business wants to know whether a web design company is reliable, or to search for a suitable web design company, WWDC would be the first resource they would check.
Which Web Design Company - home page
###