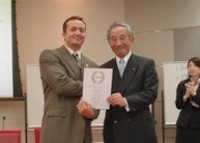 The greatest work of 2007 will be available in 2008, with the publication of The Trusted Advocate
Orange County, CA (PRWEB) December 11, 2007 -
Author, speaker, coach, and consultant, John Mehrmann is honored with the coveted 2007 Man of the Year Award from the American Biographical Institute.
"One of the major and leading authorities on the biographies of distinguished individuals worldwide, the American Biographical Institute, USA, proclaims that John Mehrmann has been selected Man of the Year 2007, based on his outstanding accomplishments and noble example he has set for his peers and entire community," sanctioned by The American Biographical Institute and its Board of International Research.
The American Biographical Institute was first established in 1967, its mission is to recognize outstanding individuals. From science and medicine, to the humanities and the arts, the goal is to seek citizens who enhance the lives of others, and to acknowledge immense accomplishments. The American Biographical Institute has developed a world-renowned network of individuals whose intellect strengthens society in every aspect. The Institute collaborates with top executives, university leaders, notable public figures and a Research Board of Advisors from over 75 countries to identify achievements that inspire action in others.
"To be enriched by the lives of others is to acquire a fortune without boundaries," said John Mehrmann. "This award is a reflection of the community of colleagues, clients, peers, and partners that inspire, influence and guide my efforts."
In 2007, John Mehrmann collaborated with his father, Louis Mehrmann, to launch the Institute for Advanced Leadership (http://www.InstituteForAdvancedLeadership.com). The Institute for Advanced Leadership contains a growing list of skill-based training, self-paced tutorials, and e-books. Topics include: Resume Design Guide, Interview for Excellence, Standards of Performance, and Creating Corporate Ethics. Louis Mehrmann has contributed materials for essential topics, including: Risk Management, Change Management, Security is a Management Issue, and Information Ownership and Classification. The tutorials and e-books available from the Institute for Advanced Leadership are based on decades of real business experience, and are intended to supplement the talent of emerging business leaders.
John Mehrmann joined Mark Victor Hansen, Ken Blanchard, Les Brown, Byron Katie, and ninety-six other prominent authors in contributing a compilation of short stories for 101 Great Ways to Improve Your Life, Volume 3. The 101 motivational and inspirational essays were selected and compiled by David Riklan, President of Self Improvement Online Inc. John's story, Stress and Stones, offers a simple solution to manage stress and achieve serenity.
"The greatest work of 2007 will be available in 2008, with the publication of The Trusted Advocate," said John Mehrmann. The Trusted Advocate, Accelerate Success with Authenticity and Integrity, is the result of co-authors John Mehrmann and Mitchell Simon. The Trusted Advocate uses proven cutting edge management techniques and leadership skills to unlock individual potential and empower personal success. The book contains entertaining stories and easy exercises to customize insightful reflections to virtually any sales environment. The Trusted Advocate is designed to revitalize sales professionals. It can be used by Managers, coaches, consultants and trainers to rapidly accelerate individual or group performance. Chapters are designed to be used consecutively for advancement or as independent reference.
Reverse Logistics Magazine, Pros Communications, and Essential Advantage have published articles by John Mehrmann. His articles have been featured on the air with ABC Brisbane, in the Passion for Life Coaching Newsletter, The Honest Businessman Report, Radiant-Wellness, Retirement-Retirement, Horse Country USA, the Centre of Specialised Therapies & Training, Home Job Café, About Visa to USA, Kenpo Legacy, Ezine Articles, SalesMotivation.net, the web site for the Canada Stock Exchange, and frequently showcased on Internet sites and Blogs.
John Mehrmann lives in Orange County, California with his wife, Tiffany Mehrmann. Tiffany Mehrmann is an International Previews Property Specialist with Coldwell Banker in Newport Beach, California. Tiffany is also founder http://www.FirstOCHomes.com
About Executive Blueprints, Inc:
Executive Blueprints is an organization dedicated to the continuous development of human capital. Several reference materials and self-paced tutorials are available for free download from http://www.ExecutiveBlueprintscom.
As a respected speaker, John Mehrmann provides relevant, inspirational and motivational keynote presentations to all types of management related events including corporate gatherings, associations, celebrations, industry conferences and executive retreats. As an author, John brings years of real life executive experience to a plethora of books, articles and materials. For a list of the latest books and articles by John Mehrmann, please visit http://www.JohnMehrmann.com
Contact:
Public Relations
Executive Blueprints Inc
877-290-2503
http://www.ExecutiveBlueprints.com
###