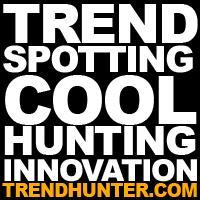 At TrendHunter.com find out what's cool before it's cool!
(PRWEB) December 10, 2007
TREND HUNTER is pleased to announce the launch of the 2008 Trend Report, a loaded digest of inspiration, consumer trends and cool business ideas brought to you by the world's largest trend spotting community (~20,000 trend hunters from 190 countries.)
Our unique trend report features over 150 clusters of inspiration, comprised of 1,000+ micro trends, each hyperlinked to online articles (often with galleries and videos.) We've leveraged our million views per month to provide measured popularity scores so you know what's important. Plus, we've included only the best of our critically acclaimed database of more than 10,000 trends.
As a bonus, we include 20 pages on how to leverage micro-trends for innovation, based on Jeremy Gutsche's Unlocking Cool keynote, so you can present to your team about how to leverage viral trends and your own consumer insights for breakthrough innovation. As Kevin Roberts, CEO of Saatchi & Saatchi puts it, "Trend Hunter gets you out of the blocks fast, then it's up to you!"
FIVE UNIQUE ADVANTAGES:
1. Globally Sourced
Our trends have been collected by a global network of roughly 20,000 Trend Hunters, the world's largest trend spotting network
2. Premium Filtered
We've cherry picked the best from our database of more than 10,000 posts
3. Critically Acclaimed Content
Our trends have been sourced by: The Economist (What to expect in 2008), The Financial Times (20 citations), MTV, The Globe & Mail, Business Journal, The Gazette, The Free Post + thousands of online publications.
"Trend Hunter Rocks!" - Guy Kawasaki, Author, Marketing Guru, VC
"Where cool lives." - Marian Salzman, Futurist, Chief Marketing Officer, JWT
"Barely two days of peeking in has moved me out of the last century all the way to the next" - Globe & Mail"
4. Hyperlinked
Dive deeper - all 1000+ micro-trends link to our online articles, which in many cases include videos and galleries
5. Measured
Only Trend Hunter scores micro-trends for popularity, leveraging ~1,000,000 monthly views to bring you a measure of what's important
Check it out at TrendHunter.com/TrendReport
Looking for the next big thing? Trend Hunter features cutting edge innovation, viral news pop culture and undiscovered trends. The site was one of the first to bring you Water Powered Phones, $5,000 Hamburgers, Powdered Alcohol, The Hover Bike, The Half Suit, Virtual Fitting Rooms, and Holographic Fashion Shows hours (days? weeks?) before traditional media.
If you are a journalist and looking for a quote, interview or ideas about trends, trend spotting or innovation, please contact us directly. As MTV puts it, "At TrendHunter.com find out what's cool before it's cool!" - MTV
###