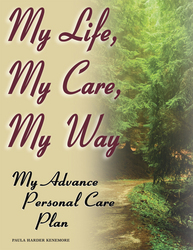 Ten minutes before sitting down to open presents, or just as Mom begins to carve the holiday turkey with a twelve inch electric knife may not be the best time to approach the subject
Moose Lake, MN (PRWEB) December 11, 2007
The topic families avoid over holiday dinners or while opening presents; how Mom and Dad should be cared for when they can no longer care for themselves. "We plan for so many things in our lives; holidays, weddings, careers, families, retirement, travel, and financial security, yet we do not plan for our future healthcare, or for life after illness or injury," says Paula Harder Kenemore, a national expert on aging and caregiver issues, and author of the recently released book, My Life, My Care, My Way, My Advance Personal Care Plan, published by Lake Effect Media. "The holidays are the best time to initiate a future healthcare plan discussion because everyone is together, the mood is light, and families are naturally reminiscing about the past and thinking about the future."
"Ten minutes before sitting down to open presents, or just as Mom begins to carve the holiday turkey with a twelve inch electric knife may not be the best time to approach the subject," Kenemore adds. "Plan your conversation well after the holiday dinner, the opening of presents, or the football game, but before anyone heads home." It is important that all family members be included in this conversation, so everyone hears the same thing. If the whole family is not able to attend, consider video or audio recording the conversation. Informing the whole family in advance of the meeting gives everyone a chance to think about it, write down their own concerns, and prepare emotionally for a topic that may be difficult for them. For a free list of what to talk about from both the parent's and children's perspective, visit Lake Effect Media.
Having this future healthcare conversation is the first step. Once families are clear on the care and decisions a family member has made, the next step is to get those wishes in writing. "When families are aware of a loved ones wishes, it helps, but it is not enough to keep difficult healthcare decisions out of the legal system and out of the media spotlight, as we saw with Terri Schiavo," warns Kenemore. My Life, My Care, My Way allows an individual to get their wishes in writing.
More families are affected by this lack of planning than you may think. According to Kenemore, "75% of Americans fail to have a written plan or advance directive for future healthcare and medical treatment, and virtually none have a plan for how they would like to be cared for by another person, yet 3 out of 5 people will depend on someone else to provide care during their lifetime due to age, illness, or injury."
Advance directives are an important piece of the planning puzzle, but many focus only on end-of-life issues and crisis decision making. Advance directives do not include "living-until-end-of-life" information. Many people will live out the remainder of their days being cared for by someone else, either in their own home or in a care facility such as a nursing home or assisted living. "Living-until-end-of-life" care is a new concept and is the focus of the book, My Life, My Care, My Way, My Advance Personal Care Plan by Paula Harder Kenemore. My Life, My Care, My Way is a tool for caregivers to see the individual as a person, not just a medical record. "The better your caregivers know and understand you, the better equipped they will be to give you quality, compassionate and loving care," adds Kenemore.
For additional information about starting a future healthcare conversation or My Life, My Care, My Way, My Advance Personal Care Plan, visit Lake Effect Media.
About Paula Harder Kenemore:
Paula Harder Kenemore is an author, speaker, and consultant with over 20 years experience in the long-term care industry. She is the founder and C.E.O. of B.O.L.D. Transitions. Her mission is to Build Older Lifestyles with Dignity by providing training and workshops that focus on aging issues for healthcare professionals, care facility residents, and their families. She is also an independent Dementia Care Specialist for the Minnesota-North Dakota Northern Regional Chapter of the Alzheimer's Association.
###