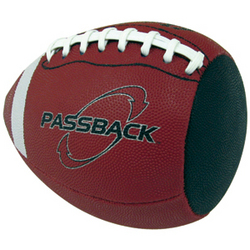 It's a fantastic instantaneous feedback training tool for quarterbacks and receivers
Federal Way, WA (PRWEB) December 10, 2007
Badenball.com announces today the immediate availability of the Baden Sports Passback™ Football, the world's only quarterback and receiver training football that is thrown against a wall and rebounds and spirals back to the passer.
The Passback™ Football is a superior, next generation training aid that does not use strings, and promotes a faster way to dramatically increase throwing and receiving techniques.
"It's a fantastic instantaneous feedback training tool for quarterbacks and receivers" says Dr. Scot Refsland, CEO of badenball.com, the official Baden Sports online store. "The passer knows instantly when the ball is thrown correctly or not by how closely it returns. Over time the thrower can learn and self-correct to increase accuracy by throwing the ball against a wall repeatedly. Even a beginner with no passing experience can instantly learn how to throw the ball better with each repetition. For amateurs and pro quarterbacks, there's nothing better, as it is the best tool on the market for fine-tuning throwing endurance and improving accuracy."
Not only is the Passback™ Football great for quarterback training, but it's also a superior tool for receivers. "Receivers can get up to 20 repetitions per minute without a quarterback or expensive equipment." says Andrew Grinaker, head of product research at badenball.com. "All you need is a wall and the Passback™ Football. Baden is well known for its SkilCoach™ basketball training tools, and now has released a superior training product for football. We're very excited to offer this product as it meets the rigorous standards of our athletes."
The Passback Football is manufactured by Baden Sports and is immediately available direct through their official online store badenball.com.
About Baden: Baden Sports, Inc., an independent, family-owned company based in Federal Way, Wash., is a designer and producer of the highest quality athletic balls in sports. Baden's product leadership has led many collegiate conferences, programs and coaches to choose Baden as their "Official Ball." These include the winningest coaches in NCAA men's and women's history: Bob Knight of Texas Tech University and Pat Summitt of the 2007 National Champion University of Tennessee Lady Vols. Baden Sports products are available through their official online store badenball.com.
###