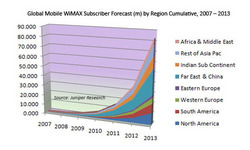 Hampshire, UK (PRWEB) December 11, 2007
Juniper Research, in a new report, forecasts that Mobile WiMAX 802.16e will begin to take off over the 2010 to 2013 period, exceeding 80 million mobile subscribers globally by 2013.
Report author Howard Wilcox said: "We are seeing more and more Mobile WiMAX 802.16e trials and network contracts - over 50 have been announced so far in 2007 alone: the market is very active in all regions of the world. We anticipate that mobile usage will develop after initial demand for fixed and portable services - WiMAX 802.16e is a flexible platform that can operate in all three modes of usage. Mobile WiMAX will represent a single digit proportion of the global mobile broadband base by 2013. This will be a tremendous achievement for this new technology platform which has recently been boosted by the ITU's endorsement of it as an IMT2000 specification."
The report's key findings include:

The value of Mobile WiMAX service revenues globally will grow to over $23bn per annum by 2013.
The top Mobile WiMAX markets will be the USA, Japan and S. Korea.
Over 10 countries will have Mobile WiMAX device markets in excess of $100m per annum.
There are several wildcard factors could significantly increase the size of the market including the emergence of very low cost laptops, and adding broadband capability to a range of devices including portable music/MP3 players, and games consoles.
However, two gating issues that will dictate take-up for this technology will be the availability of suitable devices, and service differentiation.
Howard Wilcox continued: "Mobile WiMAX will be a device-based technology, whether handsets, laptops, datacards, or other types of consumer device such as media players. The twin challenges are for vendors to produce the right devices at the right time and price, and for Mobile WiMAX service providers to differentiate their offerings from existing mobile operators. Success in these challenges will accelerate market development."
Juniper Research assesses the current and future status of Mobile WiMAX based on interviews with senior executives of some of the leading vendors and operators in the growing Mobile WiMAX market. The report includes country-level forecasts for over 30 countries worldwide, and case studies describing how a number of operators are deploying 802.16e Mobile WiMAX in their networks, and their development plans for the future.
White papers and further details of the study "Mobile WiMAX: Global Opportunities, Strategies & Forecasts, 2007-2013' can be freely downloaded from http://www.juniperresearch.com/. Alternatively please contact John Levett, +44(0)1256 830002.
Juniper Research provides research and analytical services to the global hi-tech communications sector, providing consultancy, analyst reports and industry commentary.
###